Want to stay on top of all the space news? Follow @universetoday on Twitter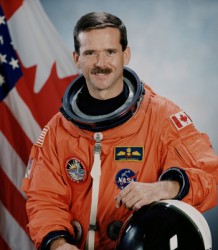 Chris Austin Hadfield is Canadian astronaut with the Canadian Space Agency and the first Canadian to walk in space. Colonel Hadfield was born August 29, 1959 in Sarnia, Ontario. He received a Bachelors degree in Mechanical Engineering from the Royal Military College Kingston . He later went on to pursue post graduate studies at the University of Waterloo in Ontario in 1982. He also got his Master of Science Degree from the University of Tennessee.
Colonel Hadfield also joined the Canadian Armed Forces during this time and besides completing his studies at the Royal Military College at Kingston also went through flight school. He also went on to train to flight fighter planes through the mid 80s. Colonel Hadfield flew CF-18s and CF-5 fighter jets.
Colonel Hadfield joined the Canadian Space Agency in 1992 being one of 4 astronauts selected out of a pool of over 5,000 applicants. As an astronaut with the CSA he was assigned to the Johnson Space Center to collaborate with NASA . He helped with safety issues and other technical aspects for the space shuttle. In addition he also helped to support launches acting as capsule commander , the human link between astronauts on missions and mission control. He was also head of the CSA astronauts at NASA as the Chief CSA Astronaut.
He later was assigned as the Director of operations for NASA at the Yuri Gagarin Cosmonaut Training Center form 2001 to 2003. Part of his duties was overseeing crew activities on the International Space Station. He also worked to negotiate policy with the Russian space agency. He even became qualified as a flight engineer for the soyuz space craft as well as the Russian space suit.
His most notable achievements was becoming the first and only Canadian astronaut to board the Russian space station Mir as well as the first Canadian to operate a Canadarm (robotic arm, built by the Canadian Space Agency) during a mission with the space shuttle Atlantis in 1995. He later went on to be part of the International Space Station construction as mission specialist on ISS assembly flight 6A. During that mission he became the first Canadian to perform a space walk.
If you enjoyed this article there are others on Universe Today that you will like. There is a great article about the expanded crew of the International Space Station. There is also an article about Canada building an asteroid hunting satellite.
There are also some great resources on Chris Hadfield. One is the NASA Johnson Center web bio on Chris Hadfield. You can even look at the STS 100 mission web page.
You can also check out Astronomy Cast. Take a look at episode 88 the Hubble telescope.
Source: NASA