Want to stay on top of all the space news? Follow @universetoday on Twitter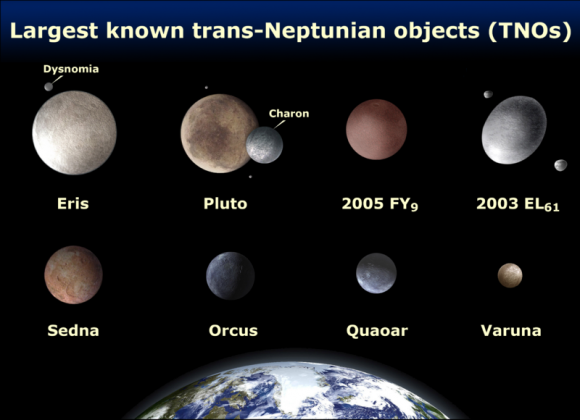 Chiron, formally known as 2060 Chiron and 95P/Chiron, belongs to a class of planetoids called centaurs. It was discovered in 1977 by Charles Kowal, but there are images of the planetoid dating back as far as 1895. Many other similar objects had been discovered before that, but the group classification "centaurs" was not formed until the discovery of Chiron. The object displays many characteristics of asteroids and comets.
We will talk about the physical characteristics of Chiron and the centaurs later, but first let's talk about Chiron's discovery. You can also check out these books for more information.
Chiron was discovered by Charles Kowal on November 1, 1977 from images taken two weeks earlier at Palomar Observatory. It was given the temporary designation of 1977 UB. It was found near aphelion. At the time of discovery it was the most distant of the known minor planets. Chiron was later found on several precovery images which allowed its orbit to be accurately determined. It had been at perihelion in 1945 but was not discovered then because there were few searches being made at that time. The few searches being conducted were not sensitive to slow-moving objects.
Chiron shares physical characteristics of an asteroid and a comet. Its visible and near infrared spectrum is neutral, and is similar to that of C-type asteroids as well as the nucleus of Halley's comet. In general, the assumed size of an object depends on its absolute magnitude and its albedo. In 1984, astronomers estimated Chiron to be about 180 km in diameter. Estimates in the 1990s were closer to 150 km in diameter. Asteroid occultation data from 1993 suggests a diameter of about 180 km. The data from the Spitzer Space Telescope in 2007 suggests that Chiron is closer to 233 km in diameter. That means that Chiron would rival Chariklo as the largest of the centaurs. In February 1988, when it was 12 astronomical units from the Sun, Chiron brightened by 75 percent. This is behavior typical of comets but not asteroids. Further observations in April 1989 showed that Chiron had developed a coma and a tail was detected in 1993. Chiron differs from other comets in that water is not a major component of its coma, because it is too far from the Sun for water to sublimate. Chiron is officially designated as both a comet and an asteroid, an indication of the sometimes fuzzy dividing line between the two classes of object. The term proto-comet has also been used.
Chiron's orbit is highly eccentric, with perihelion just inside the orbit of Saturn and aphelion just outside the perihelion of Uranus. Chiron's closest approach to Saturn( according to Solex) in modern times was in May 720. During this passage Saturn's gravity caused Chiron's semi-major axis to decrease from 14.4 astronomical units to 13.7 astronomical units. Chiron crosses Uranus' orbit where the latter is farther than average from the Sun. Chiron is an SU object since its perihelion lies within Saturn's zone of control and its aphelion lies within Uranus' zone of control. Chiron is probably a refugee from the Kuiper belt and will likely become a short period comet in about a million years.
There is a good article about Chiron here and another about centaurs here. On Universe Today we have a great article about centaurs and another about a new classification of objects in the solar system. Astronomy Cast offers a good episode about the outer solar system.
References:
NASA: The Chiron Perihelion Campaign
NASA Solar System Exploration