Want to stay on top of all the space news? Follow @universetoday on Twitter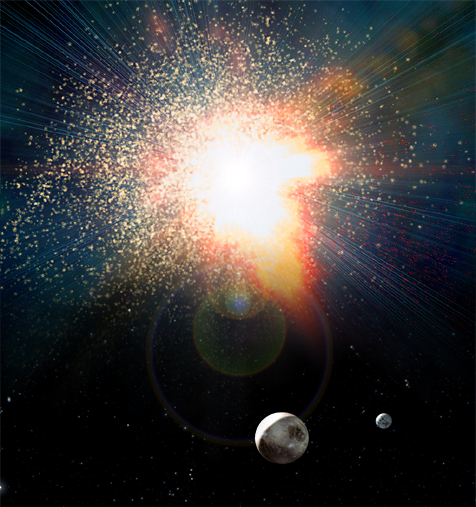 The Centaurs are a group of minor planets that have an unstable orbital paths and lie in and near the Kuiper belt. They were named after the mythological beast that were half man half animal because they act as if they are half comet half asteroid. Centaurs have transient orbits that cross or have crossed the orbits of the giant planets(this means that the Centaurs normally have a semi-major axis that lies between Jupiter and Neptune), and have lifetimes of a few million years. The Centaurs were first discovered in 1920(944 Hidalgo), but were not given a distinction as a group until the discovery of 2060 Chiron in the lat 1970′s.
Centaurs are defined in two ways: as defined above and, more narrowly, as being limited to semi-major axes smaller than that of Neptune. This definition puts the objects beyond this limit as part of the scattered disc. Because of the discrepancies in the definitions, astronomers often disagree as to what are Centaurs and what are not. This "squabble" makes it very difficult to determine the number of Centaurs that exist in the universe. To further complicate matters, the Centaurs refuse to keep the same orbit. As they pass a planet, their orbits are perturbed by the gravitational pull of that planet and the orbit is changed slowly over countless years.
The Centaurs do their best to repulse any effort to lump them together by orbit, color, or composition. They are a sort of mish-mash group. In color they range from very red to a light blue. Astronomers believe that the color variations are based on origin, composition, radiation and space weathering. Their orbits are all over the map from highly eccentric to more circular and these orbits are always changing to make things more interesting. Their composition is even more interesting. Water signatures have been found on many Centaurs, but others are thought to be covered with tholins, carbon black, olivine, amorphous carbon, and kerogens. These are really some of the more interesting objects in space.
There are several theories about the origin of the Centaurs. The study of centaur development is rich in recent developments but still hampered by limited physical data. Simulations indicate that the orbit of some Kuiper Belt objects(KBOs) can be perturbed, resulting in the object's expulsion so that it becomes a centaur. Scattered disc objects would be the best candidates for such expulsions, but their colors do not fit the bi-colored nature of the centaurs. Plutinos are a class of KBO that display a similar bi-colored nature, and there are suggestions that not all plutinos' orbits are as stable as initially thought, due to perturbation by Pluto. Further developments are expected with more physical data on KBOs. Some of the best known Centaurs are Amycus, Hylonome, Chariklo, Asbolus, Nessus, Pholus, and Chiron.
There is a good article about the Centaurs here. Here on Universe Today we have a great article about a new classification system for solar system objects. Astronomy Cast offers a good episode about the outer solar system.
References:
NASA: The Chiron Perihelion Campaign
NASA: New Horizons Pluto Kuiper Belt Flyby