Want to stay on top of all the space news? Follow @universetoday on Twitter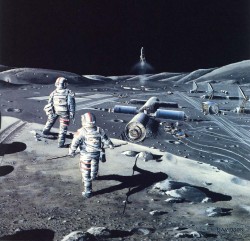 Many space programs are looking to set up bases on the moon in the not too distant future. However this would be a daunting task under most plans. The main goal would be that the moon base or colony would need to at least support human life for long enough periods of time for supplies to be restocked. What would be ideal would be for it to be self sufficient. The other problem is getting building materials to the moon.
Space exploration is still in its relative infancy and current space craft are very expensive to operate. This raises the transportation cost for significant amounts of building materials to an astronomical level. So what are the ways that we can work around these challenges?
The first solution is more international cooperation. Unless given a very valid reason, few countries would see the point in investing all the resources needed to build a moon base on their own. Like what was done with the International Space Station, a collaborative effort by the world's various space agencies.
They would need to deal with what materials to use and how to get them to the moon. Part of the problem could be solved by simply using what is there. The moon is rich in oxides and water as well as high grade minerals. Some experiments have been done mixing lunar regolith with carbon nanotubes. The resulting mixture produced a form concrete that is much lighter and stronger than its equivalent on earth. However there would still be the challenge of processing the material into a usable form.
The next challenge would be energy. The best route would be solar power but the moon has a much longer rotation period than the Earth. This would mean a potential moon base would have to deal with long periods of time with out sunlight. One solution suggested would be to place the base near the lunar pole. This region that constantly get day light all day and year round.
While the building a moon base would be a major challenge the potential benefits could be worth the effort. One is that the moon can help produce oxygen and water for longer space voyages making it a launching point for mission to Mars and beyond. It can also serve as a new training center for astronauts helping them get real world experience with extraterrestrial conditions.
If you enjoyed this article there are several others on Universe Today that you will love to read. There is a great article about the challenges of building a moon base. There is also an interesting are about some of the possible structures for a moon base.

There are also some great resources online. There is an interesting article on the history web page of NASA.gov that talks about the possibility of returning to the moon. There is also an article on the New Scientist web site that talks about potential challenges that may prevent NASA from setting up its planned moon base.
You can also check out Astronomy Cast. Episode 149 Talks about the Constellation Program.