Want to stay on top of all the space news? Follow @universetoday on Twitter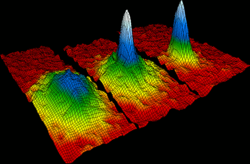 Researching Bose-Einstein will lead you down one of two paths. You can either look deeper into a phenomenon known as Bose-Einstein condensate in matter or Bose-Einstein statistics-a quantum statistics theory that relates to the concentration of particles. In this article I will give you a little bit of information on both, since they can both relate to different things happening in the solar system. Both of these theories were developed by Satyandra Nath Bose. His work was so advanced that no one could understand it. He turned to Albert Einstein who was able to comprehend the work and helped to get it published. He also extrapolated on the work at later times.
Bose-Einstein condensate
Bose-Einstein condensate is a state of matter(remember solid, gas, liquid are the most common states of matter) of a dilute gas of weakly interacting bosons(subatomic particles) that are confined in an external potential( a defined field in space) and cooled to temperatures very near to absolute zero. Given these conditions, you will find a large fraction of the bosons occupy the lowest quantum state(a mathematical object that fully describes a quantum system) of the external potential, and all wave functions will overlap each other. This makes the quantum effects measurable and observable to the unaided eye. This theory was first proposed in 1925. It took seventy years for technology to catch up and prove the proposition. In 1995, Eric Cornell and Carl Wieman, at the University of Colorado at Boulder NIST-JILA lab, used a gas of rubidium atoms cooled to 170 nanokelvin. They received the 2001 Nobel Prize of Physics for the work.
Bose-Einstein statistics
Once again we see a Bose-Einstein collaboration due to an inability to get published by Mr. Bose. This theory is used in statistical mechanics to determine the statistical distribution of indistinguishable bosons over the thermal energy states. There are many different quantum mechanics laws that have to be applied to even begin to understand what is being measured here. Basically what is being measured is the activities of subatomic particles when they are superheated and affected by great mass like in a white dwarf. Really, what you would see is the complete opposite(in temperature and behavior) from what is seen in Bose-Einstein condensate. Bose first applied the concept to photons in 1920 and Einstein expanded it to apply its conclusions to atoms in 1925.
I have reduced two very advanced and involved concepts to a paragraph each. Research Bose-Einstein condensate here and Bose-Einstein statistics here. We have a great article about a new form of matter found by the scientists that confirmed Bose-Einstein condensate in 1995. One possible off shoot of the Bose-Einstein theories is a way to travel across the universe. Astronomy Cast offers a good episode about the concepts in interstellar travel.
Sources:
Wikipedia
Physlink
Wikipedia – Bose-Einstein Statistics