Want to stay on top of all the space news? Follow @universetoday on Twitter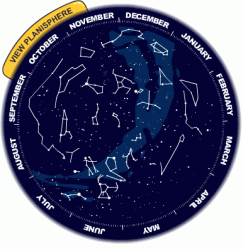 A star map or star chart is one of the most basic tools for finding constellations, galaxies, and stars in the sky.
You may download star maps, which are also known as star charts, from the Web. Just enter either the keywords "star map" or "star chart" on your favorite search box. Either that or you can go straight to the following web pages:
starcharts in www.midnightkite.com – Here you'll find PDF files containing star charts for the northern, southern, and equatorial regions as well as instructions on how to use them.
Skymaps.com – Like the previous link, this page contains downloadable PDFs of star charts updated monthly.
astroclub.tau.ac.il – An online star map updated monthly. You can specify certain information here such as the day, month, time, as well as the location expressed in longitude and latitude.
Nowadays, there are applications for computers (regardless of whether you run on Windows, Linux, or Mac OS) and certain smartphones that make the task of searching for astronomical objects faster and easier.
In most cases, all you'll need to do is enter your present location (some allow you to simply enter your city and country), the astronomical object your looking for, and the program will pan the screen and zoom into the object in question. It as well as other objects around it may even be labeled accordingly.
However, if you want to do it the traditional way, or if you don't have either a computer or smartphone on hand, then a star map printed on paper is your best bet. A typical map will have a large circle in the middle with the astronomical objects printed inside. On four corners of the circle, you'll find the North, South, West, and East directions. And at the sides, you'll find some legends.
Assuming you have the right star map for your current night sky, you'll find all the stars in the sky for that particular night on the map.
I said "assuming you have the right star map" because not all star maps are the same. Each one is only useful for a given place and time.
Since the Earth revolves around the Sun, it is possible to see a different bunch of stars in a given season compared to another. Hence, you'll need a different star map for Winter and another one for Summer.
Furthermore, observers who live in the Northern hemisphere will find a different set of stars, as well as different arrangements relative to their view of the night sky, compared to those living in the Southern hemisphere.
Universe Today has a couple of nice, very informative articles related to the one you just read:
Star Charts
Celestron Sky Maps and Star Finder – Start Out Right
NASA has an article entitled "Planets around binary stars" that provides a more detailed discussion on certain types of stars. Other interesting questions regarding binary stars can be found in this link: Binary Star Systems.
Tired eyes? Let your ears help you learn for a change. Here are some episodes from Astronomy Cast that just might suit your taste:
Moons and the Drake Equation, Stars in the Void, and Rings Around Stars
Stellar Roche Limits, Seeing Black Holes, and Water on Mars