Want to stay on top of all the space news? Follow @universetoday on Twitter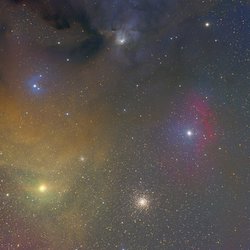 Antares, also known as Alpha Scorpii, is a class M(red) supergiant star in the Scorpius constellation of the Milky Way galaxy. It is also the sixteenth brightest star in the night sky. Antares, Aldebaran, Spica, and Regulus are the four brightest stars near the ecliptic. It is a slow variable star with an average magnitude of +1.09. Its apparent magnitude slowly varies from +0.88 to +1.16 to get that average. The star has an approximate radius of 800 times Sol, which would put it somewhere between Mars and Jupiter if it were the center of our galaxy.
Antares star is about 180 parsecs(600 light years) from our solar system. The star shines at about 10,000 times the luminosity of Sol in the visual spectrum, but. because the star radiates a considerable part of its energy in the infrared spectrum, its bolometric luminosity is equal to 65,000 times that of the Sun. The mass of the star is calculated to be 15 to 18 times solar. Antares large size and relatively small mass give it a very low average density. Its size was calculated using its parallax and angular diameter. The parallax angle is 5.40± 1.68 mas and the angular diameter is 41.3 ± 0.1 mas. This works out to a radius of 822 ± 80 solar radii.
The best time to view Antares is on or around May 31 of each year. At that time the star is at opposition to the Sun. Antares rises at dusk and sets at dawn, and is thus in view all night. For approximately two to three weeks before and after November 30, the star is not visible at all because it is lost in the Sun's glare. The of invisibility is longer in the Northern Hemisphere than in the Southern Hemisphere, since the star's declination is significantly south of the celestial equator.
Antares is not alone out there. It has a hot blue companion star that is referred to as Antares B. It is of spectral type B2.5 and is separated by about 2.9 arcseconds(550 astronomical units). At magnitude 5.5, it is 370 times dimmer visually than Antares A, although it shines with 170 times the Sun's luminosity. It is difficult to see in small telescopes due to Antares' glare, but becomes easy to see in apertures over 150 mm. The companion is often described as green, but this is probably a contrast effect. Antares B can be observed with a small telescope for a few seconds during lunar occultaions. In fact, that was how it was discovered on April 13, 1819. The orbit of this companion is nearly unknown, but has an estimated period of 878 years.
There is a good article about Antares at this link. Here on Universe Today we have a great article about the Scorpius constellation. Since most of the energy emitted from Antares is in the infrared, I thought it would be interesting for you to read about the spectra analyzed in astronomy. Astronomy Cast offers a good episode about that spectra.