Want to stay on top of all the space news? Follow @universetoday on Twitter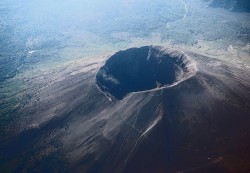 Mount Vesuvius and Pompeii. These two will forever be remembered side by side in history not because of their close proximity to one another but because the former, despite burying the latter in a cataclysmic event that claimed the lives of its inhabitants, managed to preserve much of what existed in the ancient world.
When tourists come to visit the ruins of Pompeii, they are brought back in time; specifically to 79 AD, the time when Mount Vesuvius let out all of its pent-up energy and unleashed it unto the unsuspecting inhabitants of Pompeii below it. Everything happened so quickly, that the entire town-city and everything within it were "efficiently" buried and rendered devoid of air and moisture – two requirements for deterioration.
Hence, when it was excavated, Pompeii revealed a treasure trove of ancient historical information.
Mount Vesuvius is classified as a stratovolcano. That means, like many other volcanoes just like it, Vesuvius is characterized by having highly viscous lava – the secret ingredient of volcanoes that are able to suppress the release of trapped gas. When gases are not able to escape in a volcano, they build up great amounts of pressure. Thus, when such a volcano erupts, it does so with such great power.
It is also included in a list of 16 raging mountains, known as Decade Volcanoes. They are those identified by the International Association of Volcanology and Chemistry of the Earth's Interior (IAVCEI) as volcanoes having a history of large, destructive eruptions, and being close to densely populated areas.
When it erupted in AD 79, about 10,000 to 25,000 people perished. Today, if the volcano were to erupt without warning, no less than 3 million lives would be in grave danger.
Is it possible for Vesuvius to erupt in the future? Well, it is the only volcano in mainland Europe that has erupted in the last hundred years. In fact, its last eruption was only in March 1944. So, certainly, it may erupt in the future. This looming threat and the volcano's close proximity to those 3 million lives was enough to make it a shoo-in for the list of Decade Volcanoes.
Mount Vesuvius can be found towering over the Bay of Naples, just 9 km east of Naples, and very close to the shore. When viewed from a boat on the bay, the mountain casts an enchanting scene as it serves as a backdrop for Naples.
We have some related articles here in Universe Today. Here are the links:
Here are the links of two more articles from Alaska Volcano Observatory (AVO):
Here are two episodes at Astronomy Cast that you might want to check out as well:
Sources:
http://en.wikipedia.org/wiki/Stratovolcano
http://en.wikipedia.org/wiki/Mount_Vesuvius
http://www.cotf.edu/ete/modules/volcanoes/vmtvesuvius.html