Want to stay on top of all the space news? Follow @universetoday on Twitter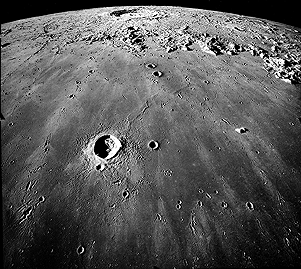 The Moon surface is a hodgepodge of maria, terrae, and impact craters.
Maria, which is the plural form of the Latin word 'mare', are actually vast areas made up of solidified basaltic lava that formed when the Moon was still young. Most maria are found in the near side of the Moon, the one almost constantly facing the Earth. When viewed from Earth, maria appear as dark-colored regions and were once believed to be seas.
Terrae, on the other hand, are the highlands of the Moon surface. Since these areas are relatively higher than most maria, terrae appear as lighter-colored regions when observed from Earth. Unlike their counterparts here on Earth, none of the major highlands there are believed to have been by plate tectonics.
Impact craters, which dot the lunar surface, were and are formed by asteroids and comets that frequently bombard the Moon. Tiny craters were even observed on the Moon rocks brought home by the Apollo missions. The really large ones are believed to have been formed millions of years ago when lots of asteroids and comets bombarded this part of the Universe.
Since the Earth and Moon are relatively very close to one another, it is possible that the Earth may have also had a great number of craters some time in the past. However, the Earth's craters may have disappeared because of plate tectonics, erosion, changing weathers, and the presence of climates.
The Moon, which neither has plate tectonics nor changing weathers, has been able to preserve its impact craters.
When astronauts walked on the Moon during the Apollo missions, one of the unique features they observed was the presence of snow-like powder that wrapped the entire lunar surface. This powder is called regolith and are made up of very fine particles which were bi-products of impact activities.
Regotliths are largely composed of silicon dioxide glass and also contain calcium and magnesium. Underneath the layer of regolith is highly fractured bedrock, which are known as the megaregolith.
Just very recently, India's Chandrayaan-1, through NASA's Moon Mineralogy Mapper, found substantial volumes of water underneath the Moon surface. The water was detected in the southern pole. The presence of water is a boon for space exploration and colonization.
Humans can tap the source and be used by future colonies there. This will enable space explorers to launch missions deeper into space from the Moon surface.
An asteroid may not have wiped out the dinosaurs after all. We've got that story here in Universe Today. Want to know where the biggest crater is?
Come October 9, 2009, LCROSS will perform a lunar impact. Find out which crater NASA has chosen for the impact. If you want to know more about the largest crater on the Moon, NASA's got the right stuff.
There are some interesting episodes from Astronomy Cast that we'd like to recommend:
The Source of Atmospheres, the Vanishing Moon, and a Glow After Sunset