Want to stay on top of all the space news? Follow @universetoday on Twitter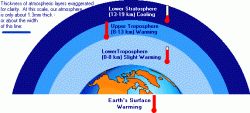 The atmosphere is composed of different gases. These atmospheric gases are responsible for protecting living organisms on the Earth's surface from harmful ultraviolet (UV) radiation. They also regulate the temperature of the planet's surface.
Through scattering of various wavelengths of light coming from the Sun, the atmosphere is also responsible for giving us white light or for imparting the orange, bluish, or reddish colors of the sky.
Of all atmospheric gases found on Earth, the most abundant is Nitrogen, which makes up about 78% of the total atmosphere. This is followed by Oxygen at about 21% and then Argon at approximately 1%. The rest of the atmospheric gases comprise less than 1% each.
Generally speaking, the density of the atmosphere decreases with altitude. This is because of the force of gravity that weighs in on the masses of each gas. Hence, the heavier gases are found closer to the surface of the Earth.
There are five principal layers of gases that make up the atmosphere: the Troposphere, Stratosphere, Mesosphere, Thermosphere, and Exosphere, wherein the Troposphere is found nearest the surface and the Exosphere is the outermost layer.
Lately, scientists have been more concerned with a small fraction of the atmosphere – the gases collectively known as greenhouse gases. The most prominent of which are: carbon dioxide, methane, nitrous oxide, water vapor, and ozone.
Although the greenhouse gases comprise only a very minimal fraction of the entire body of air that surrounds the planet, these gases play a huge role in the overall temperature of the Earth's surface. These gases get their classification from the effect (i.e., the greenhouse effect) that raises the temperature of the Earth's surface.
Global Warming, the phenomena that raises the average temperature of both the atmosphere and the planet's oceans, is primarily caused by the greenhouse effect. For as long as the amount of greenhouse gases are not reduced, Global Warming will persist.
Among the organizations closely monitoring the composition of atmospheric gases is AGAGE or Advanced Global Atmospheric Gases Experiment. AGAGE has been monitoring the atmosphere since 1978. Practically all significant gases specified in both the Montreal Protocol and the Kyoto Protocol can be monitored extensively by this organization.
The Montreal Protocol was formed to mitigate CFCs and HCFCs and subsequently protect the depleting ozone layer. On the other hand, the more recent Kyoto Protocol was formed to mitigate greenhouse gases and subsequently control Global Warming.
Want to learn more about the atmosphere and air pressure? You can read about both here in Universe Today.
Of course, you can find more info at NASA too. Follow these links:
Earth's Atmosphere
Earth
Tired eyes? We recommend you let your ears do the work for a change. Here are some episodes from Astronomy Cast:
Atmospheres
Plate Tectonics