Want to stay on top of all the space news? Follow @universetoday on Twitter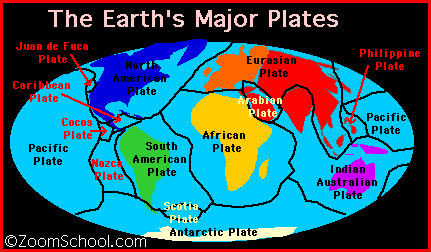 Continental plates is a term used in plate tectonics. The Earth's rocky outer crust solidified billions of years ago, soon after the Earth formed. This crust is not a solid shell; it is broken up into huge, thick plates that drift atop the soft, underlying mantle. The plates are made of rock and drift all over the globe; they move sideways and up and down. Over long periods of time, the plates also change in size. Their margins are added to, crushed together, or pushed back into the Earth's mantle. These plates are from 80 to 400 km thick.
The Earth has several continental plates and oceanic plates. Most of these have names related to their general geographic location: the Eurasian plate, Australian-Indian plate, Philippine plate, Pacific plate, Juan de Fuca plate, Nazca plate, Cocos plate, North American plate, Caribbean plate, South American plate, African plate, Arabian plate, the Antarctic plate, and the Scotia plate. These plates have been broken down into smaller sub-plates.
In order to understand the significance of a continental plate, you need a slight introduction to plate tectonics. Plate tectonics explains the movement of the Earths plates and the cause of earthquakes, volcanoes, oceanic trenches, mountain range formation, and many other geologic phenomenon. The plates are moving in different directions at a rate of 1 to 10 cm per year. When two plates collide the Earth experiences some form of seismic activity: a volcano erupts, an earthquake, etc.
There three types of continental plate movement: Divergence, Convergence, and Lateral Slipping. Divergence happens when two plates move away from each other. This usually causes the seafloor to spread. Convergence is when two plates collide. Some of the Earth's crust is destroyed, but the end results depend on the type of plates involved. When a thin, dense oceanic plate collides with a relatively light, thick continental plate, the oceanic plate is forced under the continental plate; this phenomenon is called subduction. When two oceanic plates collide, one may be pushed under the other and magma from the mantle rises, forming volcanoes in the vicinity. When two continental plates collide, mountain ranges are created as the colliding crust is compressed and pushed upwards. Lateral slipping happens when two plates move sideways against each other, there is a tremendous amount of friction which makes the movement jerky. The plates slip, then stick as the friction and pressure build up to incredible levels. When the pressure is released suddenly, and the plates suddenly jerk apart, this is an earthquake.
You can see how the continental plate in your area has affected the substance of the Earth. There is a good article about plate tectonics here. We have an even better article about the subject here On Universe Today. Astronomy Cast offers a good episode about one of the most fearsome results of the continental plate shifting: volcanoes.
Sources:
http://imnh.isu.edu/Exhibits/Online/RLO/GeoOutreach/index.php?r=tectonic&s=continentalplates
http://en.wikipedia.org/wiki/List_of_tectonic_plates
http://pubs.usgs.gov/gip/dynamic/understanding.html
http://www.enchantedlearning.com/subjects/astronomy/planets/earth/Continents.shtml