Want to stay on top of all the space news? Follow @universetoday on Twitter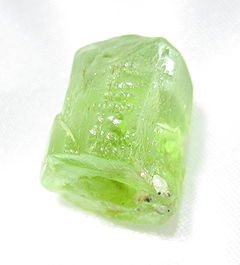 Chrysolite is a form of the minerals in the olivine family. The gem quality member of that family is peridot. Where peridot is transparent, chrysolite is more of a golden yellow in color. The mineral is a magnesium iron silicate and is the most common mineral on Earth. It is also very common on the Moon, in meteorites, on Mars, and as part of some comets.
Chrysolite is part of the olivine family. The olivine family also includes forsterite, fayalite, tephorite, montecellite, and kirschsteinite. What the mineral is exactly is defined by the iron to magnesium ratio. The higher the magnesium percentage, the higher the melting temperature. Forsterite melts at 1900 C and, on the other end, fayalite melts at 1200C. The hardness of the different olivine minerals ranges from 6.5 to 7 with a relative density of 3.27 to 3.37. The minerals generally have a glassy luster or sheen.
Chrysolite occurs in both mafic and ultramafic igneous rock and as a primary mineral in certain metamorphic rocks. Mg-rich olivine crystallizes from magma that is rich in magnesium and low in silica. That magma crystallizes to mafic rocks such as gabbro and basalt. Ultramafic rocks such as peridotite, and dunite can be residues left after extraction of magmas, and typically they are more enriched in olivine after extraction of partial melts. Fe-rich olivine is much less common, but it occurs in igneous rocks in small amounts in rare granites and rhyolites. Extremely Fe-rich olivine can exist stably with quartz and tridymite. In contrast, Mg-rich olivine does not occur stably with silica minerals, as it would react with them to form orthopyroxene.
Mg-rich chrysolite has also been discovered in meteorites, on Mars, and on Luna. Such meteorites include chondrites, collections of debris from the early solar system, and pallasites, mixes of iron-nickel and olivine. The spectral signature of chrysolite has been seen in the dust disks around young stars. The tails of comets often have the mineral's spectral signature, and the presence of chrysolite has recently been verified in samples of a comet by the Stardust spacecraft.
Chrysolite is one of the most common minerals on Earth, and maybe in the soar system. There is a good article about olivine here. We have a great article about the presence of chrysolite on Mars, here on Universe Today. It might help to understand the molecules that make up space and Astronomy Cast offers a good episode about those molecules.
Source:
http://en.wikipedia.org/wiki/Olivine