Want to stay on top of all the space news? Follow @universetoday on Twitter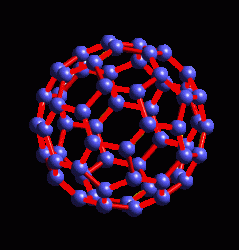 Carbon is one of the most versatile elements on Earth. Carbon can be a gas, solid, or liquid. Just for its solid form it can be diamond, graphite, nanotubes, or fullerene also known as the Buckminister ball or bucky ball for short. This versatility in allotropes or molecular structure make the element makes sense when we realize the importance that carbon has for the formation of life on our planet. At the same time it is giving scientist new materials that can advance technology to the next level as we enter the second decade of the new millennium.
Fullerene is a carbon molecule that has a unique hollow soccer ball shape. The shape is unique in nature and normally can only be found in soot or locations struck by lightning. However it was not even thought as a possible allotrope until 1970 when it was first predicted by Eiji Osawa of Toyohashi University of Technology. It was officially discovered through mass spectrometry by scientist at Rice University 15 years later in 1985. It was officially named Buckminsterfullerene after Richard Buckminister Fuller a noted architect who used geodesic domes in some of his designs, a shape similar to that of fullerene on the molecular level.
The fullerene molecule is made up of 60 carbon molecules arranged in its unique soccer ball structure of pentagons and triangles. This shape is rare in the nature but new investigations point to the possibility of other elements able to form similar allotropes. One element that is now being examined is Boron
Scientist are now looking at new possibilities for the application of fullerenes. The first is conductivity. It seems that fullerenes may be great conductors similar to carbon nanotubes. Another interesting property lies in its unique structure. Chemist discovered that its hollow structure can be used to contain other molecules. And most molecules can also be attached to the outer surface. This has many implications for chemistry and possibly medicine.
Fullerenes are now being researched by scientists for the great potential they offer for new advances in science and manufacturing. In the same way that nanotubes might make possible structures such as space elevators, carbon fullerenes might be used to make more effective materials that can be used in manufacturing and other fields. At the moment while there are some breakthroughs much of it is still speculation. However, the possibilities presented by buckministerfullerenes are still quite interesting.
If you enjoyed this article there are many others on Universe Today that you may enjoy. There is a great article about carbon nanotubes and space elevators. There is also an interesting article about building a space elevator from the moon.
You can also find out more information about Buckyballs online. The Chemistry department website for the University of Wisconsin has an interesting web page on Buckyballs. There is also a great article on the applications of fullerenes.
Astronomy Cast is another great resource. It has a lot of great shows on astronomy and science. Episode 164 on the Inside the Atom is great.
Sources:
Wikipedia
University of Wisconsin
Wise Geek