Want to stay on top of all the space news? Follow @universetoday on Twitter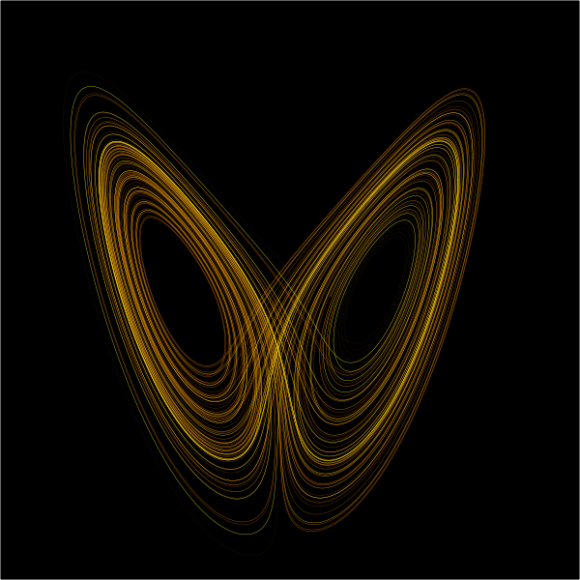 The chaos theory is an aspect many different disciplines including, but not limited to, mathematics, philosophy, and physics. It covers many dynamical systems that are highly sensitive to initial conditions. This sensitivity is popularly referred to as the butterfly effect. Small differences in initial conditions yield widely diverging outcomes for chaotic systems, rendering long-term prediction nearly impossible. This happens despite the fact that these systems are deterministic(their future dynamics are fully determined by their initial conditions) by nature.
An important aspect of the chaos theory is the butterfly effect. This effect is simply a metaphor that encapsulates the concept of sensitive dependence on initial conditions; namely that small differences in the initial conditions of a dynamical system may produce large variations in the long term behavior of the system. Although this may appear to be an esoteric and unusual behavior, it can be proven easily. Let's say a ball is placed at the crest of a hill. It might roll into any of several valleys depending on slight differences in initial position.
Topological mixing means that the system will evolve over time so that any given region or open set of its phase space will eventually overlap with any other given region. This mathematical concept of "mixing" corresponds to the standard intuition. Topological mixing is often omitted from popular accounts of chaos, which equate chaos with sensitivity to initial conditions. However, sensitive dependence on initial conditions alone does not give chaos. For example, consider the simple dynamical system produced by repeatedly doubling an initial value. This system has sensitive dependence on initial conditions everywhere, since any pair of nearby points will eventually become widely separated. However, this example has no topological mixing, and therefore has no chaos. As a matter of fact, it is extremely simple: all points except 0 tend to infinity.
The chaos theory has been observed in the laboratory in a variety of systems including electrical circuits, lasers, oscillating chemical reactions, fluid dynamics, and mechanical and magneto-mechanical devices. Observations of chaotic behavior in nature include the dynamics of satellites in the solar system, the time evolution of the magnetic field of celestial bodies, population growth in ecology, and the dynamics of the action potentials in neurons. One of the most successful applications of chaos theory has been in ecology, where dynamical systems have been used to show how population growth under density dependence can lead to chaotic dynamics.
Many studies and papers have been published about the chaos theory. Each passing year finds new perturbations related to the theory. There is a very in depth article about the chaos theory at this link. Here on Universe Today we have a great article about a related hypothesis: the Gaia Theory. Astronomy Cast offers a good episode about a chaotic behavior in quantum mechanics.
Source: Wikipedia