Want to stay on top of all the space news? Follow @universetoday on Twitter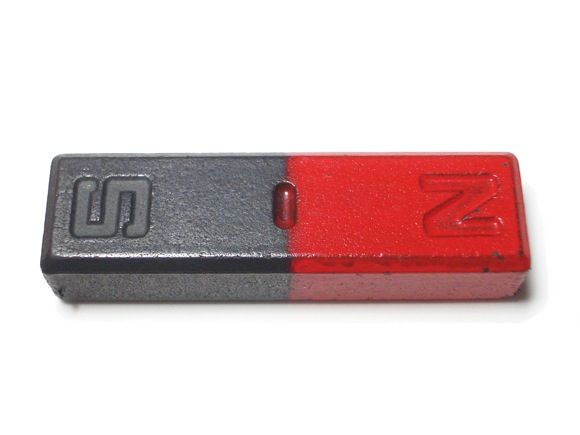 A bar magnet is simply a permanent magnet that is in the shape of a bar. It has a north and a south pole. Its magnetic field is said to go out from the North pole and in to the South pole. In its simplest definition a magnet is a material that produces a magnetic field. While this magnetic field is invisible it is responsible for a magnets most widely known property: pulling in iron and attracting or repelling other magnets. When freely suspended, a bar magnet will align itself so that the end of its northern pole points towards the Earth's magnetic North Pole. This works in the exact same manner as a compass needle, which itself uses or is a magnet. If a bar magnet has one end painted red, that end is traditionally the bar magnet's north pole.
A bar magnet is may be a simple permanent magnet, but it has the ability to attract materials that can also be magnetized. These include iron, nickel, cobalt, some rare Earth metals and some of their alloys, and some naturally occurring minerals such as lodestone. Although ferromagnetic materials are the only ones attracted to a magnet strongly enough to be commonly considered magnetic, all other substances respond weakly to a magnetic field.
A magnet's magnetic moment is a vector that characterizes the magnet's overall magnetic properties. With a bar magnet, the direction of the magnetic moment points from the magnet's south pole to its north pole, and the magnitude relates to how strong and how far apart these poles are. A magnet both produces its own magnetic field and it responds to magnetic fields. The strength of the magnetic field it produces is at any given point proportional to the magnitude of its magnetic moment. In addition, when the magnet is put into an external magnetic field, produced by a different source, it is subject to a torque tending to orient the magnetic moment parallel to the field. The amount of this torque is proportional both to the magnetic moment and the external field. A magnet may also be subject to a force driving it in one direction or another, according to the positions and orientations of the magnet and source. If the field is uniform in space, the magnet is subject to no net force, although it is subject to a torque.
The bar magnet has been used in navigation since the 12th century A.D. The early Greeks are thought to be the first to transition from star position navigation with an astrolabe to a rudimentary form of a compass using a lodestone.
Here on Universe Today we have a great article about how magnetic fields could be shaping nebulae. Astronomy Cast offers a good episode about the use of magnetic fields in advanced propulsion systems to help us travel from planet to planet. Look here for a very in depth article about bar magnets.
Sources:
Wikipedia
Hyperphysics
Wise Geek