Want to stay on top of all the space news? Follow @universetoday on Twitter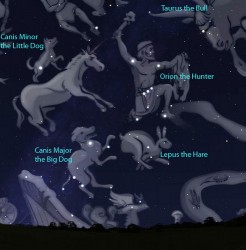 People have been watching the skies and recognizing constellations for thousands of years, but the constellations were somewhat different for various cultures. Although there was a rough list of constellations, there was no formal list. This became more important in the 1900's when astronomers were discovering more and more celestial object due to advances in technology. The International Astronomical Union (IAU) decided on a list of official modern constellations. There are 88 constellations on the list, and many of the constellations on the list – over half – were discovered by the ancient Greeks. Ptolemy described 48 of the accepted constellations in his book Almagest.  Because stars change in brightness throughout the years as they peak and die, scientists changed the way they defined a constellation. It was no longer the pattern of the constellation. Instead it is defined as an area in the celestial sphere with boundaries.
After Ptolemy, European astronomers in the 1600's and 1700's started adding new constellations to Ptolemy's list of 48. A handful of astronomers are credited with finding most of the new constellations. One of these astronomers was Nicolas Louis de Lacaille who named 15 of the 88 constellations including Antlia (the Air Pump) and Fornax (the Laboratory Furnace).
The ancient Greeks named many of the constellations they discovered after mythical figures. These include all twelve of the zodiac constellations, which have been known to exist for many centuries and were linked to mythical stories. Andromeda, Hercules, and Orion are some of the constellations based on Greek mythology. While the Greeks named many constellations after mythological creatures and figures, the Europeans took a different stance. Many of the Europeans named the new constellations after scientific instruments. For instance, Norma is the Carpenter's Level and Octans is the Mariner's Octant. The astronomer Johannes Hevelius named the constellation Sextans after his scientific instruments that he lost in a fire. The astronomer Petrus Plancius named his constellations after animals and topics of interest in exploration in the early 1600's, such as the Southern Triangle and the Toucan.
The names of the constellations are also pronounced differently both in the scientific world and by amateurs. There is no set way to pronounce the names, and astronomers can understand each other so it is not a problem. The IAU also created a three-letter abbreviation of constellation names, which is often simply a shortened version of the constellation name. Some of the most famous constellations are Ursa Major, Canis Major, and the 12 zodiac constellations.
Universe Today has articles on what a constellation is and zodiac signs and dates.
For further information, check out the official list of constellations and the constellations.
Astronomy Cast has an episode on constellations.