Want to stay on top of all the space news? Follow @universetoday on Twitter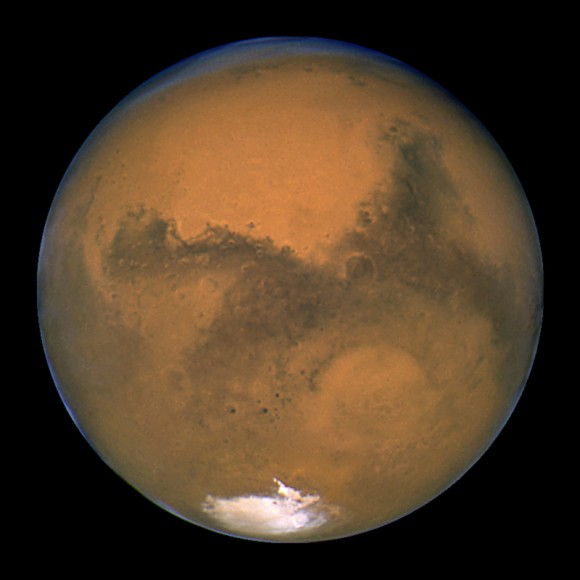 Trying to develop a Mars fact sheet is more of a process of elimination that it is one about finding enough facts. How to put a fact sheet together without writing an entire book or leaving out so much that only part of the planet's story is told? Here is a basic Mars fact sheet based on NASA facts followed by a few, none technical, facts of interest.
Mass: 0.64185 x 1024 kg
Volume: 16.318 x 1010 km3
Average radius: 3,389.5 km
Average diameter: 6,779 km
Mean density: 3.933 g/cm3
Escape Velocity: 5.03 km/s
Surface gravity: 3.71 m/s
Visual magnitude: -1.52
Natural satellites: 2
Semimajor axis: 227,920,000 km
Orbit period: 686.980 days
Perihelion: 206,620,000 km
Aphelion: 249,230,000 km
Mean orbital velocity: 24.13 km/s
Orbit inclination: 1.850°
Orbit eccentricity: 0.0935
Sidereal rotational period: 24.6229 hours
Length of day: 24.6597 hours
Axial tilt: 25.19 °
Discovery: Unknown date-known since prehistoric times
Minimum distance from Earth: 55,700,000 km
Maximum distance from Earth: 401,300,000 km
Maximum apparent diameter from Earth: 25.1 arc seconds
Minimum apparent diameter from Earth: 3.5 arc seconds
Maximum visual magnitude: -2.91
While Mars does not have rings at this time, it may in the future. The smaller of its two moons, Phobos, is in a decaying orbit that will cause it to impact the planet's surface in several million years. When that happens the ejecta will reach back into space and be captured in a decaying orbit of its own. That cloud of dust will reflect light in the same way that the rings around other planets do, creating a ring system that will be short lived(a few hundred thousand years).
It snows on Mars at Christmas time. The Phoenix lander observed snow on Mars for the first time in 2008. The snow was falling on the planet's surface near Phoenix's landing site in late 2008, just before the lander ran out of power.
Mars is a world of extremes. The four of the tallest mountains in the Solar System and the deepest canyon in the Solar System are near each other on the surface of the Red Planet. Recent data seems to indicate that the entire northern hemisphere is one large impact crater called the North Polar Basin-Borealis Basin measuring 10,500 kn in diameter. Can you imagine the size of the asteroid it would have taken to cause a crater that size?
There are thousands more bits of information that could be included on a Mars fact sheet. Be sure to explore our site and nasa.gov for more Mars facts.
We've written many articles about Mars for Universe Today. Here's an article about the gravity on Mars, and here's an article about why Mars is red. Here's another article featuring 10 fact about Mars.
If you'd like more info on Mars, check out NASA's World Book on Mars, and here's a link to NASA's Mars Photo Gallery.
We've also recorded an entire episode of Astronomy Cast just about Mars. Listen here, Episode 52: Mars.
Sources:
http://nssdc.gsfc.nasa.gov/planetary/factsheet/marsfact.html
http://www.jpl.nasa.gov/news/news.cfm?release=2008-183
http://www.nasa.gov/mission_pages/MRO/news/mro-20080625.html
http://mars.jpl.nasa.gov/gallery/atlas/tharsis-montes.html