Want to stay on top of all the space news? Follow @universetoday on Twitter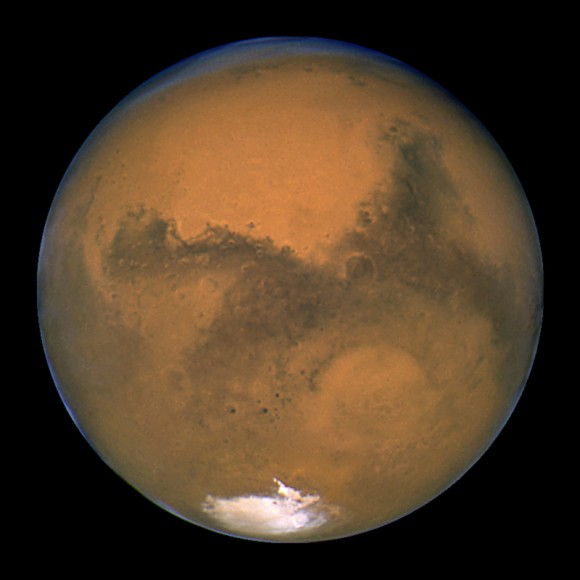 Next in our tour through the planets: Mars. Also known as the Red Planet, Mars is the 4th planet from the Sun, orbiting at an average distance of 228 million km from the Sun. It's further from the Sun, and takes 668 days to complete an orbit around the Sun.
Mars is one of the planets visible with the unaided eye, and so it has been known for thousands of years. Because of its red color, ancient people associated Mars with their gods of war. Mars is named after the Roman god of war, the same as the Greek god Ares.
In many ways Mars is similar to Earth. Its day length is only 24.6 hours and its axial tilt is 25.2°, almost the same as the Earth's. With the axial tilt, Mars goes through seasons like the Earth; although they last longer because of the longer Martian year.
But then Mars is different in many ways too. It has a thin atmosphere; only 1% the thickness of the Earth's atmosphere at sea level. And what little atmosphere Mars has is almost entirely carbon dioxide; it would be poisonous to breathe the air on Mars. And without a thick atmosphere, Mars gets bitterly cold at night. Temperatures in the day might rise as high as 10 °C, but then dip down to almost -90 °C at night, even near the equator in the summer.
The surface of Mars is red because its rocks are covered in iron-oxide – it's rust. There are vast plains of drifting sand, stretches of broken volcanic rock, and craters large and small. Some of the most extreme geological features in the Solar System are on Mars. The tallest mountain, Olympus Mons is on Mars, towering 27 km above the surrounding landscape. The largest chasm in the Solar System is also on Mars; the Valles Marineris, stretching 4,000 km long.
You can see Mars with the unaided eye when it's high and bright in the sky. Mars makes its closest approach to Earth every 26 months, and when it's close, it looks like a bright red star. In a small telescope, you can make out that Mars is a dull red disk, and if you have a moderately powerful telescope, you can even see the planet's polar ice caps.
Of all the planets, Mars is the most studied. There have been dozens of missions sent to the planet, and many of them have been successful. There have been 6 missions that have landed on the planet and studied it close up. And there have been more that have gone into orbit around Mars, studying it from above and mapping its surface in incredible detail.
Mars has two moons, Phobos and Deimos. They're just a few kilometers across, and look like captured asteroids. Mars has no rings.
We've written many articles about Mars for Universe Today. Here's an article about the discovery of a meteorite on Mars, and here are some cool dunes on Mars.
If you'd like more information on Mars, check out Hubblesite's News Releases about Mars, and here's a link to the NASA Mars Exploration home page.
We've also recorded several episodes of Astronomy Cast about Mars. Listen here, Episode 52: Mars.