Want to stay on top of all the space news? Follow @universetoday on Twitter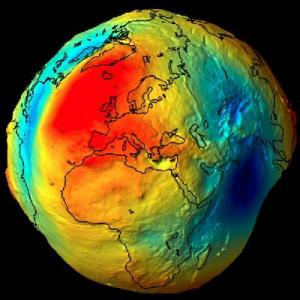 Science has long dismissed the notion of an anti gravity machine; however, NASA researchers were in hopes of running an experiment that might some day lead to being able to adjust gravity in the area of a rocket much like you can change the radio station in your car. The ultimate goal is for spacecraft to be able to travel further, faster, and using less fuel.
During 1997 a rare, closed-door conference was held at NASA's Lewis Research Center in Cleveland, Ohio. In attendance were scientists representing major universities, national weapons laboratories, defense contractors and the corporate research and development community. They were gathered to hear a detailed account of the space agency's progress in attempting to build an anti gravity machine.
The very thought of an antigravity machine defies accepted logic. To understand why, it's helpful to know there are two complementary but not entirely compatible explanations for gravity. Isaac Newton, the first physicist, described gravity as an attraction between two masses. Albert Einstein used his general theory of relativity to suggest that mass actually causes space-time to warp around it much like the dent in your pillow when you get up in the morning. Both theories explain why apples fall from trees. Many scientists consider Einstein's theory superior because it explains why light appears to bend in strong gravitational fields. Light, which has no mass, follows the mass-induced curve in space-time. Viewing gravity this way makes it more of a feature of the universe. It is for this reason that scientists consider the idea of an anti gravity machine impossible.
An experiment by Dr. Eugene Podkletnov of Tampere University, Finland seems to have shown that an anti gravity machine could be created. In the experiment a disc of superconducting material was magnetically levitated and rotated at high speed, up to several thousand rpm, in the presence of an external magnetic field. Podkletnov noted that objects above the rotating disk showed a variable but measurable loss of weight, from less than .5 percent to about 2 percent.
Based on this research and more by other scientists, NASA began building an anti gravity machine. The biggest problem facing them is the very fragile superconducting disc. Actually it is two separate discs made of different materials. One is made of metal that can be levitated in a magnetic field. On top of it is a composite made of superconducting materials. This assembly is housed in a 20-in.-dia. column that stands about 4 ft. tall. At the start of the experiment, it will be filled with liquid helium or nitrogen, which cools the apparatus to minus 400 degrees F.
Researchers have been trying to build an anti gravity machine for decades. It has long been the stuff of sci-fi, but could it one day become reality? The science in the experiment above became tainted and the results of NASA's attempt were not published, but both excite the mind. Here is a link to another possible anti gravity theory. Here on Universe Today we have a great article about another type of engine for interstellar travel: the black hole drive. Astronomy Cast offers a good episode about many of the concepts being considered to increase the chance of interstellar travel.
Source: NASA