Want to stay on top of all the space news? Follow @universetoday on Twitter
The Cassegrain is a type of reflecting telescope which employs a combination of a primary concave mirror and a secondary convex mirror into its design. Its combination of parabolic and hyperbolic mirrors was first conceived by Laurent Cassegrain in 1672 – nearly three and a half centuries ago! While James Gregory had proposed the design, he never carried through with his plans and when Isaac Newton developed his reflector telescope, the Cassegrain design was put aside.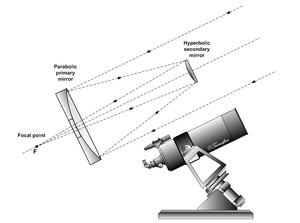 How A Cassegrain Works – In the classic Cassegrain telescope a parabolic primary mirror has a hole placed in its center. While this may seem like a very strange thing to do, the incoming electromagnetic waves are actually captured by the parabolic mirror's edges and re-directed to the hyperbolic secondary mirror where they converge. The light (or waves) is then refocused back towards the hole where it converges to a focal point – the eyepiece. This "folding" technique makes for a very compact design that delivers longer focal lengths and permits higher magnification factors.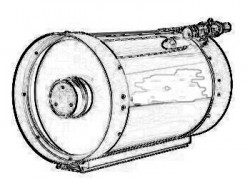 Cassegrain Designs – In staying true to original, or classic configurations, two types follow the original Cassegrain design – the Ritchey-Chretien telescope and the Dall-Kirkham cassegrain telescope. When optician Bernhard Schmidt developed an astronomical camera that employed the Cassegrain to direct its light onto a photographic plate – another idea was born… Using a corrector plate, or lens, at the front of the Cassegrain telescope to further improve its focusing abilities. Although many believe it was Schmidt who developed the Schmidt-Cassegrain telescope, it was actually James Gilbert Baker who created the first working models. Other variations on the Cassegrain design include the Maksutov-Cassegrain telescope and the Argunov-Cassegrain telescope.
Cassegrain Uses: The Cassegrain telescope is highly prized for its wide field photographic abilities and high magnification factors. For astronomical studies a camera, or a light detector, is placed at the focal point instead of an eyepiece. The mirrors in this type Cassegrain telescope are designed and arranged to share a single focal point. Still other Cassegrain designs make use of a tilted arrangement called "off axis". This allows the image to focused without the shadow the secondary mirror. Many radio telescopes are off-axis Cassegrain designs!