Want to stay on top of all the space news? Follow @universetoday on Twitter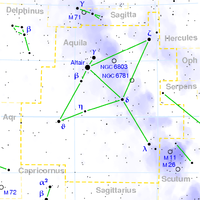 Altair, also known as Atair and Alpha Aquilae, is the brightest star in the Aquila constellation. It is also the 12th brightest star in the night sky. It is an A-type main sequence star with an apparent visual magnitude of 0.77. It is one of the points that makes up the Summer Triangle with Deneb and Vega. Altair is located 16.8 light years from Earth and is one of the closest stars visible to the unaided eye. Along with Beta Aquilae and Gamma Aquilae, it forms the well-known line of stars sometimes referred to as the Family of Aquila or Shaft of Aquila.
Altair rotates very rapidly at its equator- 286 km/s. Because of this quick equatorial rotation, Altair is flattened at its poles. This unusual phenomenon was documented by the Palomar Testbed Interferometer and other interometric studies with multiple telescopes, operating in the infrared. The stars equatorial distance is over 20 times that of the distance between the poles.
Theory predicts that because of Altair's rapid rotation, its surface gravity and effective temperature should be lower at the equator. This should make the equator less luminous than the poles. This phenomenon, known as gravity darkening or the von Zeipel effect, was confirmed for Altair by measurements made by the Navy Prototype Optical Infterferometer in 2001. Altair is also one of the few stars for which a direct image has been obtained.
An interesting side note about Altair is that it is the name of the new lunar lander that will be used by the Constellation Program. Altair will be capable of landing four astronauts on the moon, providing life support and a base for weeklong initial surface exploration missions, and returning the crew to the Orion spacecraft that will bring them home to Earth. Altair will launch aboard an Ares V rocket into low Earth orbit, where it will rendezvous with the Orion crew vehicle.
There is a nice article about Altair at this location. You can find out more details about the lunar lander here. Here on Universe Today we have a great article about imaging Altair. Astronomy Cast offers a good episode about the Constellation Program itself.