Want to stay on top of all the space news? Follow @universetoday on Twitter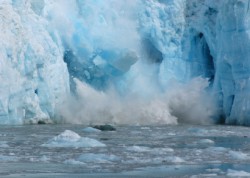 I came across a site today that ranked second in the Google search results for the keyword "global warming. It had different views regarding global warming compared with the one ranked as number one. So if you're looking for an answer to the question, "What is global warming?", you'll end up with more questions than answers if you ended your search with these two.
Now, I don't think you'll end your search here either, most of what you'll find on this article come from two reliable sources of information on the Web when it comes to our planet and its climate: NASA and the IPCC (Intergovernmental Panel on Climate Change). What do they have to say as with regards the question, "What is global warming?"
Global warming is the rise in average temperature of the Earth's surface. In the current warming, it is predicted that the average temperature will increase by an additional 5.8 degrees C by the year 2100.
This will result in the melting of polar ice (well, actually, the polar ice HAS started to melt), which in turn can raise the water levels worldwide. When this happens, cities near coastlines will be greatly affected. Even if the levels won't rise to 20 feet (as claimed by some), the mere intrusion of the sea inland would increase the salinity of water underground. This would affect many communities that would have had freshwater from a deep well.
The current global warming is mainly attributed to the accumulation of greenhouse gases in the atmosphere; most notably, carbon dioxide. The increase in carbon dioxide as well as other greenhouse gases during the recent years has been caused by human activities. That essentially means, humans can provide the solution as well … by decreasing those activities perhaps?
Studies have shown a remarkable increase in the occurrence of extreme weather conditions like heat waves, droughts, floods, and hurricanes. These have been identified as some of the effects of global warming.
Most recent findings show that the effects of global warming won't stop immediately even if we implement drastic measures now to reduce greenhouse gas emissions. This is mainly due to the substantial amount of heat absorbed by the Earth's oceans. This heat will have to be gradually released to bring back the average temperature to past levels.
We've got a good bunch of interesting articles related to global warming here in Universe Today. Here are my personal favorites:
If you'd like more info on global warming, check out NASA's Climate Change page. And here's a link to NASA's Earth Observatory.
I also found a neat pdf of FAQs regarding global warming from the IPCC site.
Tired eyes? Let your ears help you learn for a change. Here are some episodes from Astronomy Cast that just might suit your taste:
The Search for Extraterrestrial Intelligence
Advanced Propulsion Systems