Want to stay on top of all the space news? Follow @universetoday on Twitter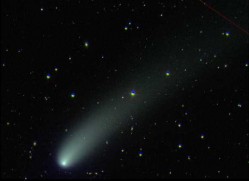 Comets in space are among the most fascinating bodies in the Universe. They are classified as Small Solar System Bodies or SSSBs, the term used to define objects in the Solar System that are not planets or even dwarf planets. When a comet makes a fly-by near Earth, it generally arouses the interest of the general public (not just astronomers).
In extreme cases, some groups portray them as harbingers of doom.
Comets in space are usually confused with asteroids. However, if you paid attention to the movies Deep Impact and Armageddon (where both of them got to play the role of the villain), you should know the difference by now. Otherwise, you'd still be classifying them both as huge rocks that may come to a collision course with planet Earth.
Actually, the term 'rock' is more suitable for asteroids, being largely made of metals and, yes, rocks. Comets in space, on the other hand, are composed of rocks, dust, and lots of ice. The presence of ice and other frozen gases is the reason why comets are accompanied by a stream of material.
Basically, comets in space are made up of three main parts: the nucleus, the coma, and the tail. As the comet approaches the Sun, some of the frozen materials vaporize and form a stream, known as the tail, pointing away from the Sun. This is due to the radiation pressure and solar wind coming from the Sun. The atmosphere of vaporized dust surrounding the comet's core, the nucleus, is called the coma.
Recent studies have shown that the comet's core is very similar to an asteroid. They both have irregular shapes because their gravitational forces are too low to mold them into a spherical form. This was confirmed when NASA's Deep Space 1 was sent to probe Comet Borrelly.
Because of the size of their orbits, most comets in space have to travel long distances before they can come back for a fly-by. Majority of the comets having long orbital periods are believed to be originating from the Oort Cloud, while those with short orbital periods come from Kuiper Belt.
Only a few comets are visible through the naked eye. We were lucky enough to have witnessed the fly by of Hale Bopp in 1997, which was visible to the naked eye for a long time. Unfortunately, most comets will require telescopes for you to observe them.
So the next time you're asked by your little kid to draw an asteroid, don't include a tail – that's supposed to be a comet in space.
We've got some cool articles about comets in space here in Universe Today. Here are two of them:
What Are Comets?
What is the Difference Between Asteroids and Comets
Here are two more from NASA:
NASA's Solar System Exploration Guide to Comets
A Bright Comet Is Coming
Tired eyes? Listen to a couple of episodes from Astronomy Cast:
Comets, Our Icy Friends From the Outer Solar System
Asteroid Belt
Source: NASA