Want to stay on top of all the space news? Follow @universetoday on Twitter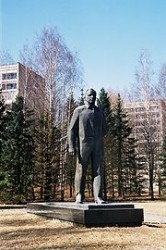 Yuri Gagarin is the first human being who reached outer space and the first to orbit the planet Earth. He achieved these feats on April 12, 1961 and is arguably the reason that prompted then US President John F. Kennedy to make the bold announcement that before the decade would end, America would put a man on the moon.
Gagarin reached outer space on board the Vostok 1, a 4,700-kg spacecraft capable of supporting only one crew member. Vostok 1 was launched from the Baikonur Cosmodrome, the world's first ever space launch facility. In that mission, Yuri Gagarin was able to orbit around the Earth once. The entire flight was controlled remotely. This was because no one knew how the human body would react in outer space.
Unlike the Apollo 11 crew that returned to the Earth's surface in the command module, Yuri Gagarin had to eject at an altitude of 23,000 km, parachuting all the way down. Again, this was because no one was sure whether splashing down in a capsule (even in the ocean and with the aid of parachutes) would be safe for the crew on board.
After his monumental achievement, Yuri Gagarin, who earned the most coveted title "Hero of the Soviet Union", lived the life of a global celebrity and a valuable icon of the Soviet Union. For fear of losing their pride and joy, the Soviets banned Gagarin from even training for spaceflights, much less participating in them.
However, when he became deputy training director of the Star City cosmonaut training base, Yuri Gagarin was once again exposed to flying duties. Then on March 27, 1968, what everyone feared would happen finally did – Yuri Gagarin crashed with a flight instructor while performing a routine flight on board a MiG-15UTI.
Gagarin and his companion, flight instructor Vladimir Seryogin, were both buried inside the walls of the Kremlin. No one knows exactly what caused the accident.
Yuri Gagarin's achievement paved the way for future space missions, including those under the highly successful Apollo Program of the United States. It gave numerous insights regarding how the human body would react in zero gravity conditions, splashdowns, and many others.
Yuri's Night, an international event celebrated every April 12, is held in commemoration to Gagarin's historical achievement. It also coincides with the 1981 launch of the first Space Shuttle. Thus, Yuri's Night is a double celebration of sorts.
Yuri's mission is one of the greatest highlights in the Space Race between the Soviet Union and the United States of America. Read about it here in Universe Today. We also have an article about the 43 anniversary of Gargarin's flight.
Even NASA has an in-depth article about Yuri Gargarin. There are also some interesting reads at russianspaceweb.com.
Astronomy Cast has an episode with a discussion on the Vostok 1 mission.
Source: Wikipedia