Want to stay on top of all the space news? Follow @universetoday on Twitter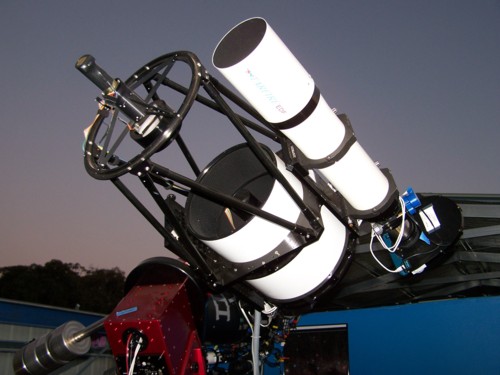 Astrophotography is the art form that entails taking photographs of solar system objects or distant deep sky objects such as nebulae or star clusters. Because of the unique subject material – the objects either being very small or incredibly faint – it requires specialized techniques, as well as specialized equipment. Astrophotography is also very technical. Because of Earth's continual motion, the camera must also "track" the subject accurately as well. But, astrophotography doesn't end at just exposing the picture! In many cases, the image must also be processed before it is complete.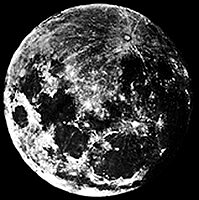 If all this sounds rather confusing, then sit back and relax… The art of astrophotography has been going on almost since the invention of the camera and photography itself! Would you believe the very first recorded astrophotograph was taken almost two centuries years ago? In 1839, John William Draper went into the history books with his picture of the Moon as seen through a 12″ telescope. He had to expose his photographic plate to the moonlight for 20 minutes to create the picture. It turned into a family tradition when in 1880 his son, Henry, became the first to photograph the first deep sky object – the Orion Nebula. During that time, astrophotography was an extended process that required long exposures and the use of primitive equipment. Let's take a look at how astrophotography has evolved over the years…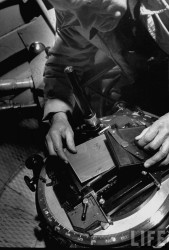 Astrophotography – The Photographic Plate: Long before film was created, astrophotography was an extended process that required the use of a glass plate coated with a light-sensitive emulsion of silver salts. Because this process was less prone to distortion and extremely stable in large-format frames for wide-field imaging, it remained the choice of serious scientific astrophotography for nearly 150 years – even if it only did respond to less than 2% of the light it was exposed to! Some of the very first astrophotography catalogs, such as Palomar Sky Surveys and and the UK Schmidt Survey used photographic plates. Numerous famous astronomical discoveries were also made using this technique – such as the discovery of Pluto, several asteroids and cosmic radiation.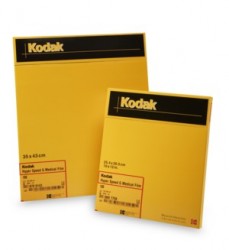 Astrophotography – Hypered Film: With the improvements in film quality, a new technique was soon to be discovered – film hypering. This is a process where film is placed in a vacuum chamber and all air is taken out. Then a mixture of hydrogen and nitrogen is introduced and the chamber heated for a period of time. During the warming process, the water and oxygen molecules in the emulsion of the film bleeds away and is replaced by the hydrogren to a minor extent. By removing the water and oxygen, the reciprocity failure of film is greatly improved, while the hydrogen input boosts the film's speed – allowing it to have shorter exposure times.
For the amateur astrophotographer who had his own darkroom, hypering film produced wonderful astrophotos – but wasn't without its own technical drawbacks. Emulsion on all films has a "memory" for the lost water and trying to photograph in high humidity situations required purging the film holder with nitrogen or keeping a constant flow of nitrogen passing across the film. Keeping things cold soon became of bonus – but a rather uncomfortable one! However, hypering was pretty much the only alternative available other than greatly extended exposures. It cut back on ruined images that might accidentally contain a flash of light, an incident airplane, or even spoiled because of poor tracking.

Astrophotography – Charge Coupled Device (CCD): With the invention of the charge-coupled device, astrophotography quickly jumped to the next level. These little "memory chips" were first developed for telephony, but it was soon discovered these little devices were capable of receiving a charge via the photoelectric effect and electronic images could be created. How does this occur? Without getting too technical, the CCD chip utilizes a silicon photoactive region controlled by a clock device. These grids of pixels act like tiny wells – the light energy transfers into electrical energy and is stored in each well for later retrieval. Each well holds the proportionate amount of charge as the intensity of the light gathered at that location. Since a CCD chip can make use of 70% of incident light, instead of 2% through film, it quickly became an astrophotography dream come true.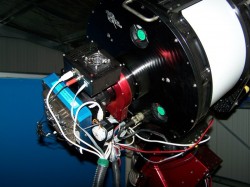 Since the CCD is also sensitive to ultra-violet and infrared applications, it also became a serious astrophotography study tool. Even cosmic rays may alter the pixels in a CCD array! Under the control of an external circuit, each capacitor can transfer its electric charge to one or another of its neighbors. This is especially useful in the astronomical field of photometry – studying the intensity of an astronomical object's electromagnetic radiation. Photometry is used to study the light differentiations of variable stars, minor planets, active galactic nuclei and supernovae, or even to detect transiting extrasolar planets! These small variations can then be measured… giving us astronomical distances, used to determine the orbital period and the radii of the members of an eclipsing binary star system, calculate the rotation period of a minor planet or a star… or the total energy output of a supernova event!

Astrophotography – Video Astrophotography: While CCD imagers are still rather expensive, some mass produced CCD chips made their way into the astrophotography scene by being not only affordable – but very easy to use. Many such CCD chips are commonly available in camcorders and webcams, registering and recording light at nearly zero lux. This made incorporating the technology into simple eyepiece cameras an affordable way to introduce the art of astrophotography to almost anyone who owned a telescope. Since the results are basically instantaneous, no complicated proceedures were needed to produce an image.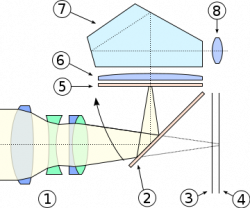 Astrophotography – Digitial Astrophotography: With constantly improving technology, even some of the most common digital cameras can be adapted to astrophotography. High among choice for astrophotography is the digital single-lens reflex camera (digital SLR or DSLR). This style of digital camera uses a mirror assembly to help achieve focus, then in milliseconds moves it out of the way to allow the CCD chip to gather the incoming light. How is this different than a common "point and shoot" digital camera since they both use a CCD chip? The point and shoot model is constantly exposing the chip to the light to produce an image that you see on screen – while the SLR does not. This allows the reflex camera to ability for focusing and framing, as well as improved resolution.

With today's improved telescope mount functions – coupled with new technology in the form a digitalization, astrophotography is quickly becoming an attainable hobby for the amateur. By employing special filters to reveal different wavelengths of light, minute details can be studied and photographed – an area which once belonged only to professional astronomers. Through the use of image processing software, many images can be "stacked" upon each other to produce specialized effects and details gleaned from raw data. It's a fascinating hobby – but one that definitely requires patience!
Astrophotography equipment photos courtesy of Southerngalactic.com, historical Draper lunar image and plate image courtesy of Palomar Observatory.