Want to stay on top of all the space news? Follow @universetoday on Twitter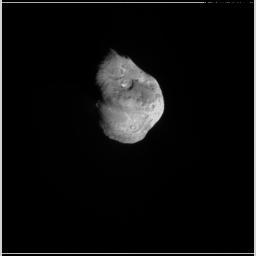 A comet nucleus is the solid, central part of the comet. Some people refer to it as the dirty snowball aspect of a comet, but it is really rock, dust, and frozen gases that are covered by a shallow crust. NASA sent the space probe Deep Space 1 closer to Comet Borrelly than any probe had ever been. The probe found that a comet's nucleus can have mountains, valleys, and smooth plains. Many of the materials in a comet have different reflective properties. They look similar to asteroids when viewed close up.
When a comet nucleus is heated by the Sun, the gases transition for solid to gas without a liquid state and produce a temporary atmosphere surrounding the nucleus called the coma. The forces exerted on the coma by the Sun's radiation pressure and solar wind cause an enormous tail to form, which points away from the Sun. A typical comet nucleus has an albedo of 0.04. Cometary nuclei are among the darkest objects known to exist in the solar system. Some comet nuclei reflect less than 4% of the light that falls on them. Blacktop(asphalt) reflects 7% of the light that falls on it. It is thought that complex organic compounds make up the dark surface material. Solar heating drives off volatile compounds leaving behind heavy long-chain organics that tend to be very dark. The very darkness of cometary surfaces allows them to absorb the heat necessary to drive their outgassing.
Most cometary nuclei are thought to be no more than about16 km across. But cometary nuclei up to 40km across are known to exist. The shapes of comets is very inconsistent. Comets lack the needed gravity to become spherical, so the are often irregular, somewhat potato shaped in appearance.
NASA has a short page about comet nucleus here. There is an in depth article on the topic here. Here on Universe Today we have an article about the facts about comets that has a lot of info on the nucleus and another on an asteroid/comet hybrid.