Want to stay on top of all the space news? Follow @universetoday on Twitter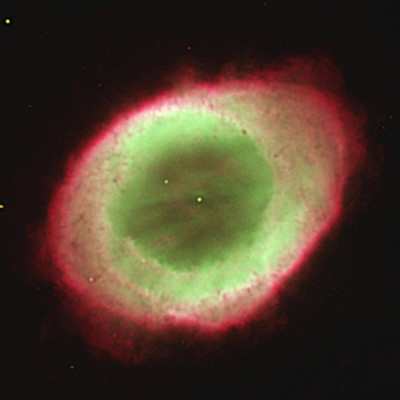 Ask amateur astronomers to name their favorite celestial targets and more often than not, you'll hear the Ring Nebula among them. This planetary nebula, which also goes by the names Messier 57, M57 or NGC 6720, is located in the constellation Lyra.
Contrary to what widely circulated pictures of it depict, the Ring Nebula is not merely ring-shaped nor is it spherical as what astronomers initially thought. Instead, extensive studies on the nebula revealed it to be barrel or cylindrical shaped. The perspective from which Earth-bound observers like us view it, which is facing its circular side, allows us to see M57 differently.
The first time the Ring Nebula was spotted was in the month of January in 1779. It was first seen by Antoine Darquier de Pellepoix then by Charles Messier. de Pellopoix described it as being as large as Jupiter and resembled a fading planet.
The Ring Nebula is estimated to be 1,200 parsecs (that's about 4,000 light-years) from the Earth. It has a planetary nebula nucleus – a central white dwarf that provides the expanding cloud with illumination. Its rate of expansion is approximately 1 arcsecond per century. The central ring is a little over a light-year in diameter.
Discovered by Jeno Gothard, a Hungarian astronomer, in 1886, the central star of the Ring Nebula is found to have spent the last 2,000 years departing from what is known as the asymptotic giant branch after taking its last breath of Hydrogen. This basically means that its energy is no longer produced through nuclear fusion.
Planetary nebulae, like the Ring Nebula, are formed in this manner. The transformation begins when a medium or low mass star uses up all the Hydrogen supply in its core. To continue burning, the star is forced to expand. Eventually, the outer layers are ejected and form a spherical nebula around the central star.
Right now, the planetary nebula nucleus of M57 is mainly composed of carbon and oxygen, while its outer regions are made up of lighter gases. This star is lighter than our own sun – only about 0.61 solar masses. Its surface temperature is about 125,000 K and is 200 times brighter than the Sun.
When viewed through an infrared image, the central portion glows bluish-green. This is due to the doubly-ionized oxygen emission lines having wavelengths equal to 495.7 nm and 500.7 nm.
To really see the ring formation of M57, astronomers are advised to use at least a 20 cm telescope.
We have some articles in Universe Today that are related to this one. Here are two of them:
Here are some related links brought to you by NASA:
Tired eyes? Let your ears help you learn for a change. Here are some episodes from Astronomy Cast that just might suit your taste:
Sources: ESO, NASA APOD, Wikipedia