Want to stay on top of all the space news? Follow @universetoday on Twitter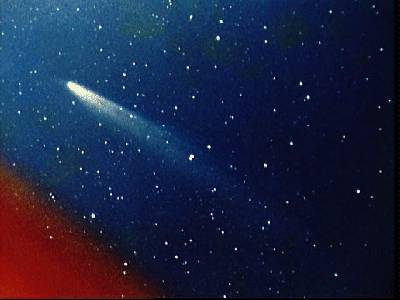 The answer to the question to "Where do comets come from?" is pretty simple. Comets have a variety of different orbital periods. Some are only a few years, others are hundreds of thousands of years, while some are believed to pass only once through the inner Solar System before being thrown out into interstellar space.
Short-period comets are thought to originate in the Kuiper Belt or the associated scattered disc, both of which lie beyond the orbit of Neptune. Long-period comets are believed to originate in the Oort Cloud, consisting of debris left over from the condensing of the solar nebula. The cloud is located well-beyond the Kuiper Belt. Comets are thrown from these outer reaches of the Solar System towards the Sun by gravitational perturbations from the outer planets or nearby stars, or on occasion as a result of collisions between objects within these regions. Comets are distinguished from asteroids by the presence of a coma or tail, though very old comets that have lost all their volatile materials may come to resemble asteroids because they lack that distinguishing tail. Asteroids are also believed to have a different origin from comets, having formed in the inner Solar System rather than the outer Solar System, but recent findings have somewhat blurred the distinction between asteroids and comets.
Knowing the answer to "Where do comets come from?" only serves to peak the interest of most aspiring astronomers. Understanding what makes up a comet is usually the next step in their research. Here is some of the information that you will want to know: Comets are small solar system bodies that orbit the Sun. When they are close enough to the Sun a comet displays a visible coma and a tail. Both are the results of the acting of solar radiation upon the comets nucleus. Comet nuclei are themselves loose collections of ice, dust and small rocky particles, ranging from a few kilometers to tens of kilometers across. Comet nuclei are known to range from about 100 meters to more than 40 kilometers across. They are composed of rock, dust, ice, and frozen gases such as Carbon monoxide, carbon dioxide, methane, and ammonia. They are often popularly described as "dirty snowballs", though recent observations have revealed dry dusty or rocky surfaces, suggesting that the ices are hidden beneath a crust. Comets also contain a variety of organic compounds in addition to the gases already mentioned, these may include methanol, hydrogen, hydrogen cyanide, formaldehyde, ethanol, and ethane. Perhaps they may contain more complex molecules such as long-chain hydrocarbons and amino acids. Because of their low mass, comets cannot become round under their own gravity and will have irregular shapes.
Now that you have scratched the surface and found out where do comets come from, here is an article that is far more in depth. There is great article here on Universe Today about the Oort Cloud and another about the Kuiper Belt. Astronomy Cast has an outstanding episode on the outer solar system.
Source: NASA