Want to stay on top of all the space news? Follow @universetoday on Twitter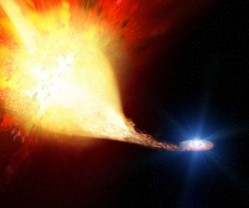 An exploding star, also known as a supernova, is one of the most majestic events in the entire universe. At the climax of this event, it can outshine even an entire galaxy.
In some cases, this cataclysmic event (including its fading) can last up to many years.
There are two main types of supernovae: Type I and Type II. These two are then subdivided into subclasses like Type Ia, Ib, and Ic (for Type I) or Type IIP and Type IIL (for Type II).
A Type I supernova can happen to some binary star systems (star systems made up of two stars). On the other hand, a Type II can happen to a very massive star, typically much more massive than the Sun.
Some exploding stars, like the type Ib, Ic and II supernovae, are accompanied by a burst of high energy neutrinos. These neutrinos travel through space and may be detected here on Earth. It is for this reason that observatories like the Super-Kamiokande and the Sudbury Neutrino Observatory were constructed.
When exactly a supernova can occur is hard to predict. Because of this, scientists can only start studying them when they have already occurred. This is where neutrinos play an important role. Detection of neutrinos in the observatories above may indicate the presence of an exploding star somewhere in the Universe.
Because an exploding star can really stand out in the sky (due to its extreme brightness), early astronomers were able to observe them. The earliest recorded observation of an exploding star was made by Chinese astronomers in 185 AD.
When a supernova occurs near the Earth, its gamma rays can deplete the ozone layer and subsequently permit solar and cosmic radiation to pass through. Some scientists believe its effects are so deadly that it may have caused the end Ordovician extinction wherein 60% of the living organisms found in the ocean perished.
It has been suggested that when an exploding star is located within 100 light years away, it can pose great risks to our planet. A number of stars in our own galaxy, the Milky Way, are believed to be approaching supernovae status.
Rho Cassiopeiae, Eta Carinae, RS Ophiuchi, U Scorpii, HD 179821, VY Canis Majoris, Betelgeuse, Antares, and Spica, are among those that may turn into supernovae in the near future. No need to be alarmed right now though. We actually mean a minimum of several thousands of years when we say 'near future' for the stars mentioned above.
We have some related articles here in Universe Today. Here are the links:
Here are the links of two more articles from NASA:
Here are two episodes at Astronomy Cast that you might want to check out as well:
References:
EarthSky.org
Antarctica University