Want to stay on top of all the space news? Follow @universetoday on Twitter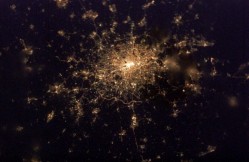 I'm sure you already know that the Universe is made up of matter and energy. Yes, the same kind we're interacting with everyday. But did you know that a greater part of the entire universe is actually composed of dark matter and dark energy, stuff we have yet to see?
It's not difficult to imagine how our ancestors may have gazed upon the stars and pondered, "What is the Universe made of?". I guess they must have suspected these twinkling marvels to be made of stuff we've never seen on earth.
However, as early as the 1800′s, scientists were able to show that stars do have the same elements as those found here. Isaac Newton, Joseph von Fraunhofer, and Angelo Secchi are among the pioneers who studied the composition of stars using what we call astronomical spectroscopy.
By studying spectral lines, unique signatures that identify distinct chemical compositions, early astronomers have gone as far as classifying the stars based upon their observed spectra.
From Einstein's Special Theory of Relavity, particularly his well-known E = mc2 that revealed the equivalence of mass (or matter) and energy, we have learned to conclude that since matter found in stars are subjected to enormous magnitudes of energy, the Universe can very well be understood as being made up of the both (matter and energy).
Later studies regarding the expansion, density, and shape of the Universe have led to the discovery of an entity totally unheard of, known as dark energy. In order to explain the Universe's increasing rate of expansion despite having a flat geometry and measurements that revealed matter composition to be much less than what was predicted, scientists have introduced dark energy.
Dark energy is believed to be pushing galaxies farther apart. By determining whether the strength of dark energy is increasing, decreasing, or constant, we will be able to predict what our universe's ultimate fate would be.
The other unknown entity was observed when scientists trained their sights at massive collections of galaxies, known as clusters and superclusters. It has been found that the velocities in these bunches of galaxies are too high for their measured masses to keep them together via gravitation.
So far, the only logical explanation would be that there must be certain substances that are not emitting enough light (or any detectable electromagnetic waves like radio waves, x-rays, and infrared for that matter) but are massive enough to provide substantial gravitational forces.
We've got two related articles here in Universe Today:
NASA also has a few:
Tired eyes? Let your ears help you learn for a change. Here are some episodes from Astronomy Cast that just might suit your taste:
A Universe of Dark Energy