Want to stay on top of all the space news? Follow @universetoday on Twitter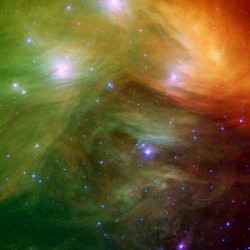 There's a continuing discussion among astronomers regarding the actual shape of the Universe. Right now, the most widely accepted model supports that of a flat universe.
This has been confirmed through accurate measurements made by WMAP (Wilkinson Microwave Anisotropy Probe), a spacecraft that maps out the differences in temperature of the cosmic microwave background radiation (CMBR) across the entire sky. These results, which only has a 2% margin of error, were released in 2008.
Even before the WMAP measurements, a project in 2001 known as Boomerang already showed that the Universe was flat within 15% accuracy.
Before these seemingly conclusive findings were released, discussions revolved around three possible shapes: flat, closed, and open. To ascertain the actual shape, majority of astronomers were in agreement that they only needed to determine a few significant information about the Universe. One of them was its density.
They knew that if the density was found to be approximately equal to an accepted critical density, then the best prediction would be that of a flat universe. If it was lower than the accepted value, then the best prediction would favor an open one. Finally if it was higher than the critical density, the prediction would favor a closed universe.
For purposes of visualization, you could picture a sheet of paper for the flat shaped model, a saddle for the open, and a sphere for the closed.
All three models stem from the Big Bang cosmological theory, which strives to explain how the Universe began. This is easily the most acceptable of all cosmological theories, following the detection of the CMBR. It is only through the Big Bang theory that the presence of the CMBR can be explained.
Since the ultimate fate of the universe is also dependent upon its density, there is therefore a direct link between its shape and how it will end. The possible endings, which are also offshoots of the Big Bang, are: the Big Crunch, Big Bounce, Big Freeze, and Big Rip.
Observations have shown that the Universe is expanding at an accelerated rate, with the outermost regions moving farther away at velocities close to the speed of light; i.e., much much faster than those regions that are near us.
A flat universe would still favor an expansion but not at this rate. This observation has led scientists to predict the presence of a so-called dark energy that pushes the galaxies farther apart.
We have some related articles here that may interest you:
There's more about it at NASA. Here are a couple of sources there:
Here are two episodes at Astronomy Cast that you might want to check out as well:
Source: NASA