Want to stay on top of all the space news? Follow @universetoday on Twitter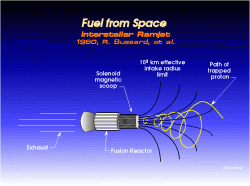 A Bussard Ramjets is a theoretical form of space craft propulsion that was proposed by the physicist Robert Bussard in 1960. The proposal is famous because the theoretical spacecraft using this type of propulsion was mentioned by science fiction writer Larry Niven's work.
The interesting thing is that the Bussard ramjet propulsion system was proposed to solve the mass problem conventional spacecraft face. All current space craft must carry fuel on board and have enough to complete their mission if they are to return. However this has limits. First off, conventional liquid fuel powered spacecraft have a limited amount of fuel. So even if a craft was able to accelerate eventually to say, the speed of light, there would not be enough fuel left to decelerate. Also there is the fact that the fuel is a finite resource and its own mass would act as an obstacle. The mass of the amount of fuel needed for traveling great distances in space at a reasonable speed would be immense and the energy needed to move that mass even greater. In short it would be burning fuel to move fuel.
Bussard proposed that to overcome this problem that the spacecraft should function like a terrestrial ramjet or scramjet. These are supersonic and hypersonic aircraft that scoop up air as they fly to help fuel the reaction that creates their thrust. Bussard knew that hydrogen is one of the most plentiful elements in the universe so since it is already one of the primary fuels used in spaceflight, why not just scoop up the hydrogen as needed? This is where the design of the Bussard ramjets differs from its terrestrial cousins. Rather than have a physical scoop, the Bussard ramjet would use immense magnetic fields to scoop up stray hydrogen ions. Then the field would be made into a sort of magnetic funnel getting tighter as it got closer to the actual craft. This field would compress the hydrogen until a thermonuclear fusion reaction occurs which would propel the craft through exhaust. This would allow for almost infinite acceleration.
The theory was later examined by other scientist who deemed the design to impractical. First, it was discovered that hydrogen is less plentiful near the sun than first assumed. This would mean that even larger magnetic fields than first estimated would be needed. At the moment no technology exists to make such a massive field. Fusible hydrogen is even rarer so most of the Hydrogen in space would be useless to begin with Also, there is the fact that the craft like space sail space craft would have to overcome over time the drag caused by the Sun's gravity.
In the end scientists still see feasible possibility in the theory and are now working to better understand and hopefully fix its flaws.
If you enjoyed this article there are several others on Universe Today that you will enjoy. There is a great article on Ramjets. This will help you better understand the basic principles behind the Bussard ramjet. There is also a great article about the current propulsion systems now being studied or used.
There are also great resources on the web. The NASA website has an article that talks about the theoretical propulsion system propose that were based on current technology. There is also a very interesting article about Bussard ramjets on the BBC website.
There is also an interesting episode of Astronomy Cast today that talks about Bussard ramjets and the challenges involved with interstellar travel. It is episode 145 Interstellar travel.
Source: Wikipedia