Want to stay on top of all the space news? Follow @universetoday on Twitter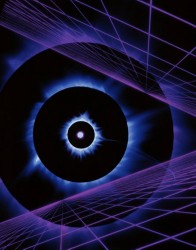 Much of the measurements made that strive to determine the shape of the Universe point to one picture – we are living in a flat universe. This was first declared by a group of scientists working on the Boomerang project and later on confirmed with sharp accuracy by the WMAP (Wilkinson Microwave Anisotropy Probe).
Both the Boomerang experiment and the WMAP draw their conclusions by mapping out cosmic microwave background radiation (CMBR), a faint background glow that is found to be almost the same in all directions. The presence of the CMBR is the most convincing proof that catapulted the Big Bang way ahead of other cosmological theories.
The Big Bang theory has spewed forth theories that strive to predict the way the Universe will end. Among them are the Big Crunch, Big Bounce, Big Freeze, and Big Rip. All four of them are dependent on a handful of factors, and one of them is the Universe's shape.
That the Universe is flat gives us an idea as to how it may meet its ultimate end. The most plausible scenario is a continuous expansion, albeit with an equally continuous decreasing rate. Thus, this shape supports scenarios such as the Big Freeze, and contradicts extreme ones like the Big Rip and exactly opposite ones like the Big Crunch or the Big Bounce.
Unfortunately, a straightforward conclusion cannot be drawn based on this information alone. You see, if the Universe were flat, it would have followed that the average density of matter inside it would have been equal to what is known as the critical density. Alas, it is lesser. In fact, much much less.
A density lesser than the critical value should have only meant one thing: that the Universe is open. Hence, it would contradict other observations that the Universe is flat. To make matters even more complicated, additional information show that the Universe's rate of expansion is accelerating.
To reconcile the differences in gathered data, an entity which was later on called 'dark energy' was introduced. It is believed to be the reason why the expansion is fastest at regions farthest from us. That is to say, the observations that we are getting now can only be possible if dark energy existed in a flat universe.
Before we end, let us clarify that, yes, even in the absence of dark energy, a flat universe will still expand forever. The characteristics of its expansion, however, would be really different. It would not be accelerated.
Flat universe articles are so hot. It's a good thing we've got a nice collection of them here in Universe Today. Here are two of them:
Flat universe articles brought to you by Physics World, here are the links:
Tired eyes? Let your ears help you learn for a change. Here are some episodes from Astronomy Cast that just might suit your taste:
Sources:
NASA
Cornell Curious about Astronomy