Want to stay on top of all the space news? Follow @universetoday on Twitter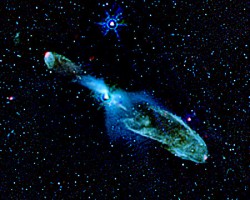 How does one measure the size of the Universe? The challenge in measuring the size of the Universe doesn't lie on its enormity. Simply put, if you want to measure a really big area, all you need is a really long measuring stick.
In the case of the Universe, one of the means of measurement is provided by the cosmic microwave background radiation (CMBR), the living storyteller of the Big Bang. Now, there's no problem with picking that signal up. In fact, the Wilkinson Microwave Anisotropy Probe or WMAP has been able to generate a very detailed full sky map of the variations in temperature of the CMBR.
Information from WMAP has even led scientists to peg the age of the Universe at 13.7 billion years. This has tempted some people to believe that, since it took 13.7 billion years for the radiation to reach us then the edge of the Universe has to be 13.7 billion light-years away from us.
Remember that not only is the Universe expanding but that its rate of expansion is also increasing.
So this is where it gets a little tricky. Since the Universe is expanding in all directions and since in the regions very far from us, the galaxies are moving away at rates close to the speed of light, then signals coming from them may never reach us.
This is the reason why we're hearing terms like the 'observable universe'. There are simply regions out there that we cannot hope to peer into from where we stand. Furthermore, since we're not really sure how the rate of expansion has evolved since the Big Bang, we cannot ascertain where the source of the CMBR that we're picking up is now.
Imagine yourself and a companion playing catch – that is, your companion throws balls while you catch them. Assuming that your companion throws the balls at the same speed and that you know exactly how fast the balls travel, it would be easy to compute how far your companion is if you also knew the time of travel.
But that task would only be easy if you and your companion were staying in place. If any of you were moving (either away or toward one another), things would get a little bit more complicated. Much more if your rate of separation is not constant, i.e., with the ball in mid-air, you might separate slowly at first then speed up.
To end, what would happen if you would be moving away forever at practically the same speed as the ball? Hmmmm.
Some astronomers believe that the Universe is infinite, going on in all directions forever. Others have estimated that the Universe has expanded to the point that it's about 150 billion light years across since the Big Bang; and it's getting bigger every day.
We've got a few articles that relates to the size of the universe here in Universe Today. Here are two of them:
NASA also has some more:
Tired eyes? Let your ears help you learn for a change. Here are some episodes from Astronomy Cast that just might suit your taste:
Sources: NASA WMAP, NASA Ask an Astrophysicist