Want to stay on top of all the space news? Follow @universetoday on Twitter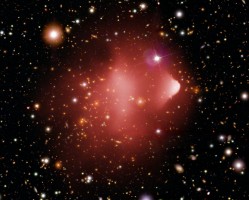 Of all physical cosmological models, the most established and widely supported is the Big Bang. Much of the scientific evidence as well as mathematical predictions converge harmoniously into this model that speaks of a primordial very hot and very dense condition, once known as the primeval atom, that blew up (hence Big Bang) into what is now the Universe.
Not so very long ago, between the 1950′s and 1960′s, the Big Bang was rivaled by a formidable model known as the Steady State theory. There was a lot of heated debate during that period, in which the Steady State generated substantial astrophysics researches. However, most of them eventually aligned with the Big Bang after the discovery of the cosmic microwave background radiation (CMBR).
To explain why the CMBR is one of the most important ingredients in proving the validity of the Big Bang, let's recall that, according to the model, the Universe was initially a very hot fireball. Some scientists suggested that, if it was indeed very hot, some of that heat should be around and permeating through space and detection of which would support the theory.
Well, detect it they did, and scientists continue to do so until today. Detection of the CMBR through powerful devices like NASA's Wilkinson Microwave Anisotropy Probe has provided us with great information regarding the Universe. Among the latest and most important of which is the most accurate measurement of the Universe's age – 13.73 billion years.
As stated earlier, a lot of experimental data have supported the Big Bang model. One of the most notable is that of Hubble's discovery that the Universe is expanding. He arrived at it by measuring the red shifts of the most distant galaxies relative to ours. Not only was he able to prove that the outermost galaxies were moving further but that they were also moving outward much faster than the nearer ones.
There were times when new developments seemed to oppose the model. Among those that initially appeared to be inconsistent with the Big Bang were observations of globular clusters which appeared to be 15 billion years old.
These observations came at a time when 13.7 billion years was already the accepted age of the Universe. Now, how could stars be older than the Universe itself? Later on, it was discovered that after taking into consideration the effects of mass loss due to stellar winds, the globular clusters would turn out younger.
We've got a few articles that touch on beginning of the universe here in Universe Today. Here are two of them:
NASA also has some more:
Tired eyes? Let your ears help you learn for a change. Here are some episodes from Astronomy Cast that just might suit your taste:
Sources: University of Tennessee – Knoxville, NASA: Age of the Universe, NASA: Tests of Big Bang: Expansion