Want to stay on top of all the space news? Follow @universetoday on Twitter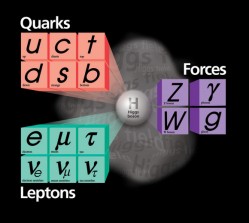 The Higgs boson, up to this day, is nothing more than just a theoretical entity that stems only from particle physics' Standard Model. Still, many of the particles that mankind has discovered, and in fact, many of the principles that have been proven by experimental data, started out as predictions from mathematical solutions.
Hence, if we look back at history, we can only surmise that the Higgs boson may very well exist. All we need is the right equipment for the job to confirm (or disprove) its existence and right now, it looks like we are soon to have one. Among the major objectives of the creation of the much touted LHC or Large Hadron Collider at CERN is to find the elusive Higgs boson. In fact, discussions of the LHC and the Higgs boson is almost inseparable.
Hopes of finding the boson are pinned on two massive detectors at the LHC: the ATLAS or A Toroidal LHC ApparatuS and the CMS or Compact Muon Solenoid. These two detectors have the same goals but their designs are radically dissimilar.
Since the LHC is scheduled for operation later this year (2009), the long hunt for the boson is about to come to an end. Whether it will end successfully or not, will depend on the outcomes of the related experiments.
So how do these scientists intend to lure the Higgs Boson from its hiding place? Well, theoretically, they would need to collide two quarks with a minimum of 1 TeV of energy. Unfortunately, your regular particle accelerators won't do the trick. For this task, they would need what are known as colliders.
But don't accelerators already allow particles to collide? Well, in a way, yes. However, typical collisions in particle accelerators are between projectile particles and none moving target particles. Now, compare this with a collision wherein both particles are moving at high velocities and meeting head-on.
Just imagine three cases.
(1) A truck speeding towards a stationary car.
(2) A truck speeding head-on towards a car cruising at the same speed.
(3) 2 trucks speeding head on toward one another at the same speed.
Get the picture? That's why you would need two particles with equal masses and velocities speeding head-on to provide the biggest collision scenario. And that's also the reason why you would need colliders and not just ordinary particle accelerators.
The LHC would not be the only collider in the world, as we already have others like the Large Electron-Positron Collider (LEP) at CERN & the Stanford Linear Collider in California. The LHC, however would be able to provide the highest energies, as it is capable of smashing two protons at energies of 7 TeV each, much higher than what is needed to pry out the shy Higgs boson.
Articles on Higgs bosons are so hot. It's a good thing we've got a nice collection of them here in Universe Today. Here are two of them:
Here are links leading to the two detectors at CERN's LHC which will be used to search for the Higgs bosons
Tired eyes? Let your ears help you learn for a change. Here are some episodes from Astronomy Cast that just might suit your taste:
Sources:
Wikipedia
CERN
Exploratorium
Hyperphysics