Want to stay on top of all the space news? Follow @universetoday on Twitter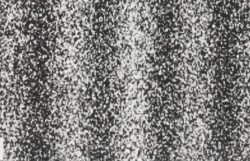 The wave particle duality refers to the dual nature of matter, i.e., being able to exhibit both wave-like qualities and particle-like qualities. These qualities, although present in all types of matter, big or small, are only really evident in those whose masses are very small; for example, sub-atomic particles.
This is the reason why, within the atom, we are not able to ascertain where, say, an electron is found. Instead, we can only predict which regions they can be most likely located. Hence, the planetary model of the atom which Ernest Rutherford discovered and which we are so familiar with from science logos is no longer accurate.
In the planetary model, electrons were believed to be orbiting around the nucleus much like planets. The more accurate model is that which was initiated by Niels Bohr and built upon by Erwin Schrödinger: an electron cloud wherein electrons can be located only in terms of high probabilities in certain regions and low probabilities in others.
This wave-particle duality was first discovered in electromagnetic waves, visible light being the most easily observed. Before the wave-particle duality of light was established, a long debate as to the true nature of light flourished. One side believed that light was a wave, while others, that it was a particle.
Both sides were able to prove their arguments; the light-is-a-wave advocates, through light-related phenomena like interference and diffraction, while the light-is-a-particle believers, through particle-related phenomena like the photoelectric effect. Since light was shown to exhibit both qualities, scientists like Albert Einstein and Louis de Broglie were able to prove that light actually existed as both.
It was through this dual property of light, which can be described independently in terms of photons (particles) and electromagnetic waves (of course, waves), that Louis de Broglie proposed that perhaps small particles like electrons also had this dual nature. True enough, when the model of Bohr's electron orbitals are seen through the lenses of a wave-influenced model, everything falls into place.
The wave particle duality is one of those major principles that paved the way to what we now call Quantum Physics, the realm of physics dominated by probabilities and randomness and that which does away with deterministic principles that predicted with utmost certainty the values of practically all physical quantities.
This is the same field of physics that prompted Einstein to remark that 'God does not play dice.', and which led some to ponder whether we can actually fathom how a Supreme Being actually thinks.
You can read more about wave particle duality in Universe Today. Click on these links:
There's more about it at NASA's Imagine the Universe! Dictionary and Wave-particle duality seen in carbon-60 molecules article from Physics World.
Here are two episodes at Astronomy Cast that you might want to check out as well: