Want to stay on top of all the space news? Follow @universetoday on Twitter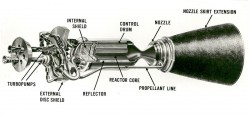 Propulsion is the motor that makes spaceflight possible. Without a way to propel craft we can't keep artificial satellites in orbit and send probes into deep space; subsequently propulsion research is some of the most important in the space program. What are these systems and how do they work?
All designs being used or tested involve what boils down to reaction engines; the use of some type of reaction chemical to eject a mass out of the engine. This system uses Newton's Third Law to function; for every action there is an equal and opposite reaction. So if a reaction ejects the propellant in one direction the rocket will move in the opposite direction with equal force.
The most common propulsion system is the liquid fuel rocket; a liquid state propellant heated into a hot exhaust that is ejected in the opposite direction of the rocket's destination. The two main types of liquid fuel rockets are monopropellant and bipropellant rockets. The liquid fuel has changed over time from gas to kerosene, liquid hydrogen and oxygen. Bipropellant rockets are more complicated; two liquids are used. Fuel is the main propellant, burned to create thrust. The other is an oxidizer that helps the fuel. This system works best because it can be controlled using valves and pressure from the tanks.
Another type of propulsion system is the solid rocket. The solid rocket works using the same reaction method; however, the fuel is in a solid state. This propulsion system is considered to be the world's oldest man made engine and has been around since ancient China. The solid fuel is burned to create a heated exhaust, as in the case liquid fuel, that generates the necessary thrust. The down side is that once ignited, the thrust is hard to control.
The ion engine is a new kind of engine that works by bombarding a neutral gas with electrons turning it into plasma. The plasma is then ejected using electrostatic and magnetic forces. Currently ion engines are used only as attitude adjusters on some satellites and space probes because their thrust capacity doesn't match conventional means of propulsion.
Scientists are also looking to use propulsion systems that use the atmosphere itself as a source fuel; thereby reducing fuel costs significantly. These propulsion systems are called ramjets and scramjets; supersonic jet engines that collect air using the forward motion of an aircraft. This air is mixed in the combustion chamber with spent fuel. If perfected, this propulsion system will allow an aircraft, that can travel faster than Mach 5, leave the atmosphere on its own power.
Scientists are also looking at the nuclear thermal rocket that uses a nuclear reaction to heat a propellant, usually hydrogen, high enough to create thrust. This system is still in its testing phase as the heat produced from a nuclear reaction would melt most materials.
If you enjoyed this article, you may enjoy others on Universe Today. If you want to learn more about propulsion systems, check out the article on Chemical Propulsion. You can also check out the article on Ion Engines.
There are also great resources on the web. NASA has a great article on future propulsion systems. Here is a great video on YouTube from NASA showing the efficiencies of different propulsion systems.
You can also check out Astronomy Cast. Episode 101 on Advanced Propulsion Systems.
Sources:
NASA: Beginner's Guide to Propulsion
NASA: Propulsion System