Want to stay on top of all the space news? Follow @universetoday on Twitter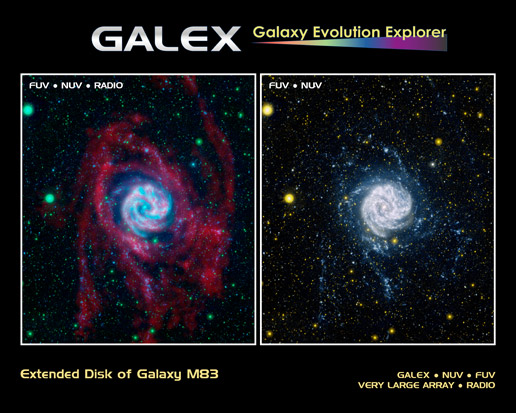 Ultraviolet (UV) light is part of the electromagnetic wave spectrum that borders the highest frequency/shortest wavelength among those that make up visible light. Just like all members of the electromagnetic wave spectrum, the UV frequencies overlap with its adjacent members. However, most of UV is between 10 nm and 400 nm.
All electromagnetic waves carry some amount of energy. The rule of thumb is, the higher the frequency (and the shorter the wavelength), the greater is its energy. Thus, since UV waves have much shorter wavelengths than visible light (400 nm – 700 nm), they carry more energy. 
Subsequently, those with higher energies have greater capabilities of altering the atoms on which they are incident on. For example, they are more capable of dislodging electrons. That is why you'll never get a burn when under a fluorescent lamp for 24 hours but you will if you stay out in the sun for even just a couple of hours. It is the substantial amount of UV in sunlight that causes this.
The ionizing property of UV is one of the reasons why they are used in purified water refilling stations as one of a series of stages. A typical setup will have UV as the last stage. It is placed to eliminate very tiny bacteria that may have survived through the various filters in the earlier stages.
As with other members of the electromagnetic wave spectrum such as radio waves, visible light, infrared, X-rays, and gamma rays, ultraviolet rays can also be detected by certain telescopes, aptly called UV telescopes. Since the atmosphere has several components that can hinder UV from passing through, Ozone being one of them, UV telescopes are typically placed on satellites for them to be effective.
The images at the top of this article illustrate the difference between an image rendered by UV light and that of radio waves. The Hubble and FUSE (Far Ultraviolet Spectroscopic Explorer) are among the major telescopes in outer space that are fitted with UV detectors.
Other applications of UV can be found in security systems, such as those wherein UV lamps are used to view UV water marks to determine whether documents such as passports and even certain currencies are genuine or not. If you've read Dan Brown's the Da Vinci Code, you may very well remember one of the novel's first clues left by the dying Sauniere, using his special marker that could only be read under UV light.
You can read more about infrared light here in Universe Today. Want to know more about an entire galaxy as seen in ultraviolet? How about the best ultraviolet image of the Andromeda galaxy?
There are also interesting stories from NASA and PhysicsWorld:
Ultraviolet Waves
Ultraviolet Light to Squeeze In the Data
Here are two episodes at Astronomy Cast that you might want to check out as well:
Ultraviolet Astronomy
Optical Astronomy
Sources:
Wikipedia: Ultraviolet
Wikipedia: UV Water Disinfection