Want to stay on top of all the space news? Follow @universetoday on Twitter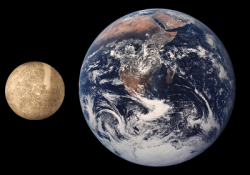 Ahora que Plutón ya no es considerado un planeta, Mercurio tiene el título como el más pequeño planeta del Sistema Solar. Hay varias maneras podemos hablar sobre el tamaño de Mercurio: su diámetro, radio, volumen y superficie.
En primer lugar, hablemos sobre el diámetro de Mercurio. Los astrónomos han calculado que el mercurio es 4.879 km a lo largo de su ecuador. Esto hace que sea incluso más pequeño que el más grande de las lunas en el Sistema Solar: Ganímedes y Titán.
Esto hace que su radio de 2.439,7 km, o 38,3% del tamaño de la Tierra.
Mercurio tiene una superficie total de 7,48 x 107 km2, lo que le da el 10,8% sobre la superficie de la Tierra.
Por último, tiene 6.083 x 1010 km3 de volumen, lo que representa alrededor del 5,4% el volumen de la Tierra.