Want to stay on top of all the space news? Follow @universetoday on Twitter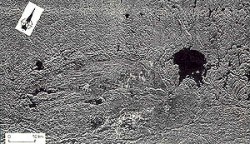 Asteroid craters are every where on Earth. The most recent one would be Tunguska in 1908. That is not to say that Tunguska is the most recent asteroid to hit the Earth. Asteroid 2008 TC3 hit the Earth in 2008, but it burned up in the atmosphere and did not leave an asteroid crater. The Earth actually has hundreds of asteroid craters, but there are 46 that are considered to be significant. We will go over three of them here.
Chicxulub Crater
This one is thought to be significant because many scientists believe it is responsible for the destruction of the dinosaurs. It is believed to have caused wide spread climate changes that brought down those mighty beasts. The crater is more than 18o km in diameter. That makes it one of the largest in the world. It was discovered by Glen Penfield while searching for oil in the 1970′s
Vredefort Crater
The Vredefort Crater is the largest of the verified asteroid craters on Earth. The asteroid that hit Vredefort is one of the largest to ever impact the Earth. It is estimated at over 10 km wide. The crater has a diameter of roughly 250 – 300 km. Although it is the largest verified, there is the unverified Wilkes Land asteroid crater in Antarctica that is over 500 km in diameter and could unseat Vredefort if it is verified.
Sudbury Basin
Sudbury is the second largest of the verified asteroid craters. It is the largest in Canada. The Sudbury Basin is located near a number of other geological structures, including the Temigami Magnetic Anomaly, the Lake Wanapitei impact crater, and the western end of the Ottawa-Bonnechere Graben. None of the structures are related in any way. The large impact crater filled with magma containing nickel, copper, platinum, palladium, and gold. As a result of these metal deposits, the Sudbury area is one of the world's major mining communities.
Asteroid craters all over the world have turned out to be sources of minerals that we have mined. Nickel is one minerals most commonly found in asteroid craters. There are several unverified sites that hopefully will change the face of astronomy and the mining industry in the years to come.
Here are a couple of related articles on Universe Today. One about the 10 most impressive craters and the other on a crater in Antarctica.
Wikipedia also has a list of the most impressive asteroid craters on Earth and there is a good Astronomy Cast episode about craters, too.
References:
NASA: Do We Know What Killed the Dinosaurs?
NASA: Craters
Wikipedia: Sudbury Basin