Want to stay on top of all the space news? Follow @universetoday on Twitter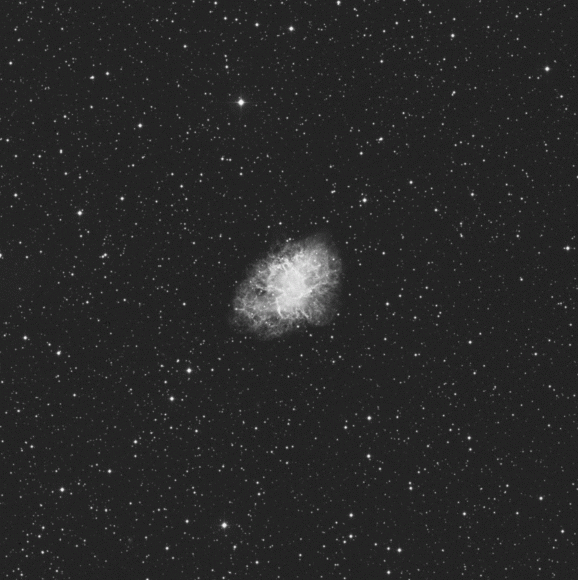 Object Name: Messier 1
Alternative Designations: NGC 1952, M1, Sharpless 244, Crab Nebula
Object Type: Supernova Remnant
Constellation: Taurus
Right Ascension: 05 : 34.5 (h:m)
Declination: +22 : 01 (deg:m)
Distance: 6.3 (kly)
Visual Brightness: 8.4 (mag)
Apparent Dimension: 6×4 (arc min)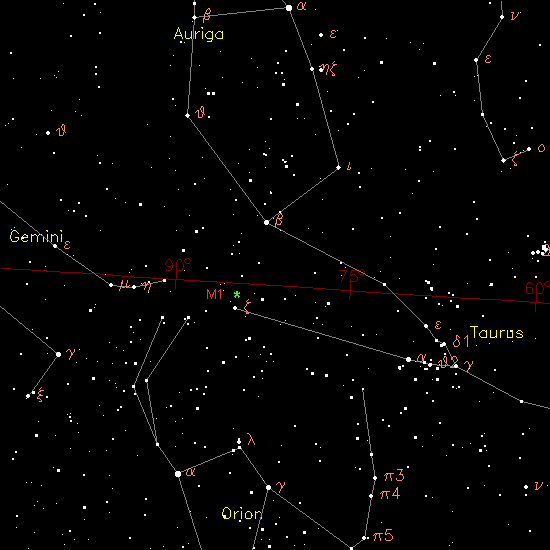 Locating Messier 1: Messier 1 can be located by identifying Zeta Tauri, a third magnitude star located east/northeast of Alpha (Aldebaran). M1 is situated approximately one degree north and one degree west of Zeta. With dark sky conditions it can be seen as a tiny, hazy patch in binoculars and small telescopes and low magnification and may be hard to locate with modest equipment if sky conditions are bright. Telescopes with apertures of at least 4″ will begin to reveal some details in shape and brighter patches within the structure. As size increases, so does resolution and larger telescopes (10-12″ or more) can expect to see bright filaments.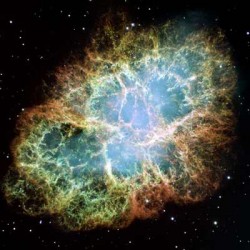 What You Are Looking At: Messier 1 is a supernova remnant – an expanding cloud of gas created during the explosion of a star. This material has been spread over a volume approximately 10 light years in diameter, and is still expanding at the very high velocity of about 1,800 kilometers per second. Its spectral emission lines are split into both red and blue-shifted components, giving us a wonderful view of a tangled web of bright filaments. These gaseous filaments and a continuum background are the leftovers from the outer layers of the former star and the highly polarized synchrotron radiation, which is emitted by high-energy electrons in a strong magnetic field. M1 is also a strong source of radio radiation and an X-ray source. It also contains a pulsating radio source – a radio pulsar – and an optical pulsar known by supernova's variable star designation, CM Tauri. At M1′s heart is a rapidly rotating neutron star of spectral type B4 III. It has ejected an expanding gas shell which encompasses its spectroscopic companion star which in turn orbits the neutron star every 133 days. This pulsar was the first one which was also verified in the optical part of the spectrum.
History: The very first recorded information on this supernova event reaches as far back as July 4, 1054 A.D. by Chinese astronomers who marked the presence of a "new star" visible in daylight for 23 days, and for 653 nights. The event may have also been recorded by the Anasazi, Navajo and Mimbres Indians of North America in their artwork as well. In more modern times, it was cataloged as a discovery of British amateur astronomer John Bevis in 1731 and independently recovered by Charles Messier on August 28, 1758 while looking for the return of Comet Halley. Although Bevis had added it to his "Uranographia Britannica", Messier recognized what he had located had no proper motion by September 12, 1758 and hit upon the idea of compiling a catalog of objects that weren't comets. (And he did credit Bevis discovery when learned of it in a letter of June 10, 1771.) Considering M1′s position (only slight more than a degree from the ecliptic plane) it was a very good idea since M1 was again confused with Halley's Comet when it returned again in 1835!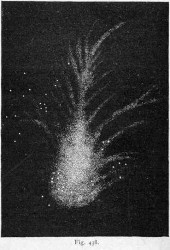 So where did the name "Crab Nebula" come from? You have Lord Rosse to thank for that. All of the early observers, including both Herschels, Bode, Messier and Lassell all felt there was something there just beyond the edge of resolvability. It was Lord Rosse's sketch which ended up giving it its famous name! All of the historic observers, including the more modern Lassell, apparently mistook filamentary structures as indication of stellar structure. Says Messier: "Nebula above the southern horn of Taurus, it doesn't contain any star; it is a whitish light, elongated in the shape of a flame of a candle, discovered while observing the comet of 1758. See the chart of that comet, Mem. Acad. of the year 1759, page 188; observed by Dr. Bevis in about 1731. It is reported on the English Celestial Atlas." How about Sir William Herschel? "To these may added the 1st [M1], 3d, 27, 33, 57, 79, 81, 82, 101 [of Messier's catalog], which in my 7, 10, and 20-feet reflectors shewed a mottled kind of nebulosity, which I shall call resolvable; so that I expect my present telescope will, perhaps, render the stars visible of which I suppose them to be composed…" But it was Lord Rosse who made it what we know it today: ""Fig. 81 is also a cluster; we perceive in this [36-inch telescope], however, a considerable change of appearance; it is no longer an oval resolvable [mottled] Nebula; we see resolvable filaments singularly disposed, springing principally from its southern extremity, and not, as is usual in clusters, irregularly in all directions. Probably greater power would bring out other filaments, and it would then assume the ordinary form of a cluster. It is stubbed with stars, mixed however with a nebulosity probably consisting of stars too minute to be recognized. It is an easy object, and I have shown it to many, and all have been at once struck with its remarkable aspect. Everything in the sketch can be seen under moderately favourable circumstances."
Enjoy your observations!
B&W image thanks to Palomar Observatory, courtesy of Caltech, color image courtesy of Hubble Space Telescope and historical sketch by Lord Rosse courtesy of SEDS.