Want to stay on top of all the space news? Follow @universetoday on Twitter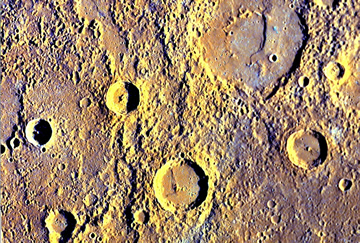 The landscape of Mercury displays one overwhelming feature: craters. Nearly all of the craters on Mercury were formed by impacts. The impacts accumulated over billions of years, but have not been covered for two reasons: the planet is lifeless and geologically inactive. The craters on Mercury range in size from less than 100 meters to the largest, Caloris Basin, at over 1,300 km across.
Since Mercury is so difficult to observe, many of its craters have never been seen. It wasn't until the flybys during the Mariner 10 mission that scientists fully understood the overwhelming nature of the craters on Mercury. Caloris Basin for instance was not fully mapped by the Mariner 10 mission. It wasn't until the MESSENGER space craft began sending back images that scientists were able to arrive at an estimate of 1,300 km for the basin's diameter, with some estimating the crater to be as large as 1,550 km.
At the antipode of the Caloris Basin is a large raised, spider-like feature that is thought to have been caused by the impact that created the basin itself. Many scientists theorize that the impactor was large enough to send shockwaves through the planet. These shockwaves were strong enough to push up a mountain range currently known as the Weird Terrain.
While several of the craters on Mercury were probably formed shortly after the Solar System, as masses impacted each other and were accreted, the majority of them were most likely formed during the Late Heavy Bombardment era the affected the entire Solar System between 3.8 and 4.1 billion years ago.
Another crater on Mercury that interests scientist is the Tolstoj Basin. This basin, located at latitude ?15, longitude 165, is 390 km in diameter and is estimated to be 2 km deep. Its relative shallowness demonstrates that it is very old had has probably been worn by solar wind. Scientists believe the crater was formed approximately 4 billion years ago.
There are 15 impact basins that cover the mapped portion of Mercury. Since Mariner 10 only mapped about 40% of the planet's surface, there are probably more to be found. As MESSENGNER sends more images of the surface, a greater understanding of the craters on Mercury will probably be gained. Even more knowledge may be gained after BepiColombo arrives in orbit about the planet. Science can only hope.
We have done several stories on Universe Today about the craters on Mercury. Here are some images of Mercury returned by NASA's MESSENGER spacecraft, and a side of Mercury that had never been seen until recently.
If you'd like more information on Mercury, check out NASA's Solar System Exploration Guide, and here's a link to NASA's MESSENGER Misson Page.
We have also recorded a whole episode of Astronomy Cast all about Mercury. Listen to it here, Episode 49: Mercury.
Cráteres en Mercurio
References:
http://nssdc.gsfc.nasa.gov/nmc/spacecraftDisplay.do?id=1973-085A
http://ser.sese.asu.edu/M10/IMAGE_ARCHIVE/Mercury_search.html
http://www.nasa.gov/mission_pages/messenger/multimedia/index.html
http://photojournal.jpl.nasa.gov/jpeg/PIA00068.jpg