Want to stay on top of all the space news? Follow @universetoday on Twitter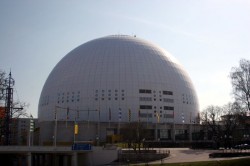 Since man has been looking into the heavens,he was been building scale models of what he could observe. To date the largest Solar System model is in Sweden. It was build before the demotion of Pluto and is called the Sweden Solar System.
The Sweden Solar System is on a 1:20,000,000 scale. The Sun is represented by the 110 meter Globe arena in Stockholm, which is also the largest spherical building in the world. Jupiter is a 7.3 meter ball at the International airport Arlanda. Neptune is 2.5m in diameter and is located in Soderhamn, which is 229 km from the Sun. Pluto, though a dwarf planet now, is in Delsbo, 300 km from the Globe. It also features dwarf planets, dwarf planet candidates, several asteroids, and a sculpture is being built to mark the terminal shock(the end of the heliosphere).
Additionally, there is a very large 3D Solar System at Aroostook Count, Maine. This model is built on a 1:93,000,000. The Sun is located in the Northern Maine Museum of Science, University of Maine at Presque Isle. The Sun measures 15 meters across. Pluto is a tiny ball, just 2.5 cm across, located in the Houlton Information Center 64.4 km away the Sun. Again, this model predates the Putonian demotion.
You can not possibly build a project on the scale of the largest Solar System model in Sweden, but you can build a great 3D Solar System for school. Here are the instructions.
List of Supplies
Two 12 cm styrofoam rings
Several styrofoam balls of varying diameter. One each of 2.5, 5, 6.4, 7.6, 10, and 15 cm. Two each 3.75 cm and one 3 cm ball.
A styrofoam tray that is 30.5 cm x 91 cm
Acrylic paints that are yellow, black, orange, light blue, dark blue, green, bright red, bright green, terra cotta, coral, and dark green. These are general colors. You are welcome to paint the styrofoam any color of your choice.
Two wooden dowel rods that are 91 cm x .03 cm
Paint brush
Toothpicks
Ruler
Scissors
Glue
Step 1
Cut the dowel rods into the following lengths: 6, 10, 12, 15, 18, 20, 25, and 30 cm. Paint each of them black and let them dry while you move on. Paint one of the styrofoam rings black. It will be the base for the sun to sit on. Paint the 15 cm ball yellow. It is the Sun. When it and the black ring are dry, glue them together.
Step 2
It is time to paint each of the planets. The 2.5 cm ball will be orange for Mercury. The 3.75 ball will be deep blue for Venus. The other 3.75 ball will be bright blue for Earth. A 3 cm ball will be bright red for Mars. Paint the 10 cm ball orange for Jupiter. Saturn is the 7.6 cm ball and will be green and coral. Paint the other styrofoam ring coral and glue it to the Saturn ball. Uranus will be a 6 cm ball painted terra cotta with green splotches on it. Neptuen will be a 5 cm ball that is green with terra cotta splotches on it.
Step 3
After the planets all dry, you need to attach the right length dowel to each. One end glued to the Sun and the other to its planet. Mercury will be 6 cm, Venus will be at 10, Earth at 12, Mars will be on the end of a 15 cm dowel. Next comes Jupiter at 18 cm, Saturn and its rings at 20 cm, Uranus at 25 cm, and Neptune at 30 cm.
You can learn more about the Maine Solar System Model here.
Here are some instructions on how you can build a model of the Solar System.
We have recorded a whole series of podcasts about the Solar System at Astronomy Cast. Check them out here.
References:
http://gac.gsfc.nasa.gov/observ2.htm
http://en.wikipedia.org/wiki/Sweden_Solar_System
http://ttt.astro.su.se/swesolsyst/englishsum.html
http://www.umpi.maine.edu/info/nmms/solar/