Want to stay on top of all the space news? Follow @universetoday on Twitter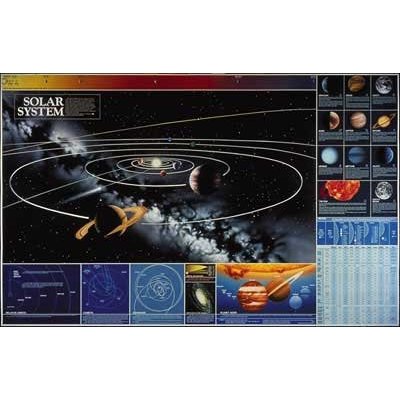 Open the glove box of your car(glove box gives away that I am in America, doesn't it) and you will find various local maps and maybe a few national ones, but how may of us carry around a Solar System map? Did you even realize that such a thing is available? Here are a few links to websites that offer you a map or mapping experience that is related to our Solar System.
NASA offers several great Solar System map experiences. The simulator at this link allows you to view the Solar System from any vantage point within the system, including from spacecraft. Also on the NASA site is a way to get a map of every planet in our Solar System. You might be amazed at how often these will come in handy for science reports.
Have you ever been curious about the current position of the terrestrial planets? How about wanting to know where you could find a few of the asteroids that are zooming around in the Solar System? Follow this link to the Armagh Observatory and you can kill two birds with one stone. Interested in Near Earth Asteroids? You are not alone, here is a geocentric map of all asteroids orbiting within 0.3 AU of Earth.
Educators and parents alike may want to have a Solar System map on hand. They can be difficult to find online. Amazon and ebay can be unreliable, but you can click here for a good example for sale.
One of my favorite projects when I was in school was building my own Solar System. Of course, it was a little bigger than now, since there are only eight planets to be shown. I had fun adding a few of the larger moons. Here is a link to a simple model and one to a more complex solar system. There are many more kits available online, shop carefully and you can buy a fun project for you and your child.
One other great family time option is to purchase a Solar System map puzzle. The puzzle will be challenging, but the benefits of spending time with your children learning and problem solving are well worth the aggravation that a large puzzle can cause.
The Solar System offers many surprises. Most of them are easier to understand it you have a Solar System map that you can refer to. The interest you show could translate to your children. Nothing is more worthwhile than acquiring new knowledge at any age.
We have recorded a whole series of podcasts about the Solar System at Astronomy Cast. Check them out here.