Want to stay on top of all the space news? Follow @universetoday on Twitter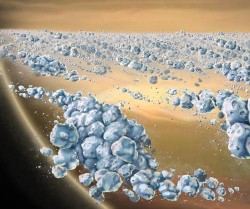 Saturn's beautiful rings are the planet's most recognizable feature, but where did they come from?
You can also check out these cool telescopes that will help you see the beauty of planet Saturn.
How did Saturn's rings form? There are a few possibilities. The traditional theory is that the rings are almost as old as the planet itself, surviving for at least 4 billion years. At some point in Saturn's early history, a moon about 300 km across got too close to Saturn and was torn into pieces. It's also possible that two moons collided together, or a moon was struck hard enough by a comet or asteroid that it just shattered.
Another possibility is that a moon was never shattered to create the rings in the first place. Instead, they formed out of the solar nebula that created Saturn. The rings are just left over water ice that never fell into the planet.
But here's the problem: the ice in the rings is too clean. If the rings formed with Saturn, billions of years ago, you would expect them to be covered in dirt from micrometeoroid impacts. Instead, they're as clean as if they formed less than 100 million years ago.
It's possible that the rings just have enough material in them to overcome being darkened by meteoric dust. Or it might be that ring particles temporarily clump together gather a layer of dust and then shatter apart again to appear brand new.
This is one Solar System that still needs to be solved.
Here's an article from Universe Today describing how the rings could be 4.5 billion years old, and another article about how the rings might contain twice as much mass as previously believed.
This is a homework assignment that lets you calculate how the rings might have formed, and a research paper describing the process.
We have recorded two episodes of Astronomy Cast just about Saturn. The first is Episode 59: Saturn, and the second is Episode 61: Saturn's Moons.