Want to stay on top of all the space news? Follow @universetoday on Twitter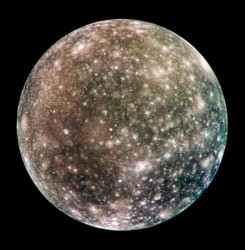 Jupiter's moon Callisto is the second largest moon orbiting the planet. It is the third largest moon in the Solar System behind another Jovian moon, Ganymede, and Saturn's moon Titan. It is 4,820 km across and orbits 1,880,000 km from the planet. It orbits Jupiter every 16.7 Earth days.
Callisto has an average density of 1.83 g/cm3, which leads scientists to believe that it is composed of equal parts silicate rock and various ices. Spectroscopic examination of the moon has shown water ice, carbon dioxide, silicates, and organic compounds. The Galileo spacecraft returned data that seems to indicate the presence of a rocky core and an ocean of liquid water that is at least 100 km below the surface ice. Callisto has an extremely tenuous atmosphere mainly composed of carbon dioxide with a little bit of molecular oxygen mixed in. The outer edges of the atmosphere are an intense ionosphere.
Callisto's surface is heavily cratered and does not show any signs of recent restructuring from tectonic action, volcanic eruptions, or tidal flexing from Jupiter's gravity.. The entire moon is thought to have evolved from frequent impacts with other bodies. The surface is dominated by features that normally result from impacts like: multi-ring structures, intact impact craters, chains of craters (catenae), scarps, ridges and deposits. Many of the feature have been worn by time and are only remnants. The surface of Callisto is thought to be nearly 4 billion years old. Callisto is thought to have formed by slow accretion from the disk of the gas and dust that surrounded Jupiter after its formation. The slow pace of the accretion combined with a lack of tidal heating prevented the moon from becoming completely differentiated. Callisto did have some interior convection, allowing it to partial differentiate, which may have allowed the formation of the suspected subsurface ocean.
The likely presence of an ocean under the surface of Callisto has led to speculation that the moon could be harboring life on some scale. Many scientists agree that the possibility of life is much higher on Jupiter's moon Europa than it is on Callisto. Callisto has been studied several times because of its low radiation. The radiation levels make the moon a possible location for a human base for exploring the remainder of the Jovian system. As you can see, Jupiter's moon Callisto is of great interest to scientists and will remain so for decades to come.
We don't have a lot of news on Callisto, but here's an article about NASA's Galileo spacecraft crashing into Jupiter, and a technique that could melt through the ice to see the subsurface ocean on Callisto.
Here's Nine Planets' coverage of Callisto, and NASA's information page.
We've also recorded an entire show just on Jupiter for Astronomy Cast. Listen to it here, Episode 56: Jupiter, and Episode 57: Jupiter's Moons.
Source: NASA