Want to stay on top of all the space news? Follow @universetoday on Twitter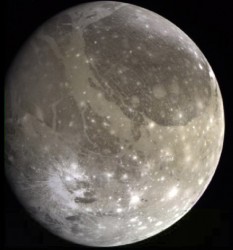 Jupiter's moon Ganymede is the largest moon in the Solar System. It measures 5,268 km across. Ganymede is larger than Mercury and some of the dwarf planets in our Solar System. Ganymede is the only moon in the Solar System with its own magnetosphere and is thought to have a salt water ocean that is trapped under surface ice. It orbits Jupiter once every seven days at a distance of 1,070,400km.
Ganymede is composed of nearly equal amounts of silicate rock and water ice and has an iron-rich, liquid core, thought to be responsible for its magnetic field. Scientists think that a saltwater ocean lies about 200 km below the surface, floating between layers of ice. There are two types of surface on Ganymede: dark regions and lighter regions. The dark regions are dominated by impact craters and seem to date back four billion years. These account for approximately one third of the surface. The lighter regions are crosscut by grooving and ridges and appear to be slightly younger, geologically speaking. Many scientist theorize that there may have been tectonic flexing of the planet caused by tidal forces from Jupiter in the ancient past, causing the ridges and grooves. The moon also features a tenuous atmosphere containing oxygen, and ozone(O3) as well as hydrogen.
Ganymede has been visited by several spacecraft as they orbited or flew by Jupiter. Pioneer 10 and 11 approached the moon in 1973 and 1974. They returned the first images of the satellite, but they lacked detail to say the least. Voyager 1 and 2 provided better measurements of the moon's size, elevating it to the largest in the Solar System. Galileo discovered the magnetic field and the subsurface ocean. New Horizons made a flyby in 2007 returning topography and composition maps of the moon.
Jupiter's moon Ganymede presents many interesting opportunities for research and, as such, is scheduled to be explored in more detail. The Jupiter Icy Moon Explorer is set to explore Jupiter's moons in more detail with special attention given to Ganymede. With a $4.7 billion price tag, it is facing funding issues, but seems to be on track to launch some time in the early 2020s. The hope is to understand the composition of Jupiter's many moons as well as classifying the origins of Ganymede's magnetic field. Understanding either could help scientists understand the formation of other bodies encountered.
Here's an article from Universe Today about Ganymede's lumpy interior.
Here's more information on Ganymede from the Nine Planets, and JPL's Fact Sheet.
We've also recorded an entire show just on Jupiter for Astronomy Cast. Listen to it here, Episode 56: Jupiter, and Episode 57: Jupiter's Moons.
Sources:
http://www.nasa.gov/multimedia/imagegallery/image_feature_1560.html
http://www.nasa.gov/missions/past/index.html