Want to stay on top of all the space news? Follow @universetoday on Twitter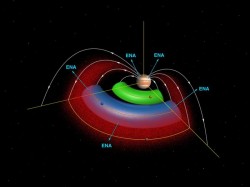 Jupiter's magnetic field is the most powerful in our Solar System. It ranges from 4.2 gauss(a unit of magnetic induction equal to one ten-thousandth of a tesla) at the equator to 14 gauss at the poles. That means that it is 14 times as strong as the Earth's magnetic field, and it contains 20,000 times as much energy. Jupiter's magnetosphere extends seven million km towards the Sun's and to the edge of Saturn's orbit.
Jupiter's magnetic field is doughnut shaped (toroidal) and contains enormous equivalents of the Earth's Van Allen Belts. These belts trap high-energy charged particles (mainly electrons and protons). The rapid Jovian rotation and its magnetic field combine to flatten these belts into plasma sheets. The field's rotation matches the planet's at around 10 hours. Some of Jupiter's moons interact with the magnetic field. Io in particular. Io has multiple active volcanoes on its surface that spew a gas of particles into space that become ionized. These particles eventually diffuse into the rest of the region surrounding Jupiter, becoming a major source of the charged particles trapped in the Jovian magnetic field.
Above, I referred to Van Allen Belts. They are a torus of energetic charged particles(plasma) around the Earth. They are held in place by the Earth's magnetic field. Most of the particles that form the belts come from solar wind and cosmic rays. The belts are located in the inner region of the Earth's magnetosphere. There are two distinct belts, with energetic electrons forming the outer belt and a combination of protons and electrons forming the inner belt. Additionally, the radiation belts contain lesser amounts of other nuclei, like alpha particles. The belts pose a hazard to satellites, which must protect their sensitive components with adequate shielding if their orbit spends significant time in the radiation belts. Around Jupiter similar belts are much stronger, causing any spacecraft that flyby or orbit the planet to need additional specialized shielding to protect its electronics.
Jupiter's magnetic field generates some of the most spectacular and active auroras in the Solar System. The Jovian auroras are created a bit differently than the ones seen here on Earth. On Earth, auroras are triggered by solar storms of energetic particles disturbing Earth's magnetic field. Some auroras on Jupiter are created in the same way, but Jupiter has another way of producing auroras. Jupiter's rapid rotation, intense magnetic field, and an abundant source of particles from its volcanically active moon, Io, create a huge reservoir of electrons and ions. These charged particles, trapped in Jupiter's magnetic field, are continually accelerated down into the atmosphere above the polar regions where they collide with gases to produce the aurora that rarely ever end.
Jupiter's magnetic field is thought to interact with nearly every body in the Solar System in some way. Some scientists even speculate that it is powerful enough to affect sunspots when Jupiter is at perihelion.
Here's an article about auroras on Jupiter, generated by the planet's magnetic field, and an article about the planet's version of Van Allen Belts.
Here's an article from Windows on the Universe about Jupiter's magnetosphere, and an article from Solar Views.
We've also recorded an entire show just on Jupiter for Astronomy Cast. Listen to it here, Episode 56: Jupiter, and Episode 57: Jupiter's Moons.
Source:
http://csep10.phys.utk.edu/astr161/lect/jupiter/magnetic.html