Want to stay on top of all the space news? Follow @universetoday on Twitter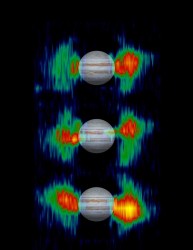 Radiation ins space is one of the greatest challenges to the exploration of many planets. On Jupiter, radiation is the greatest threat to any craft closing within 300,000 km of the planet. Well, the greatest threat until the space craft tries to enter the planet's atmosphere, then being crushed before it can return data becomes a more realistic possibility than anything else.
Jupiter is surrounded by intense radiation belts that would easily destroy all onboard electronics if the craft was not properly protected. High-energy electrons are whipped up to nearly the speed of light by the magnetic field surrounding Jupiter. Earth has similar belts of radiation, called Van Allen radiation belts, but they are not nearly as fierce as those encountered in the Jovian system.
Van Allen radiation belts are doughnut-shaped regions containing high-energy electrons and ions trapped in a planet's magnetic field. They were first discovered around Earth by NASA's Explorer I in 1958. They are referred to as Van Allen radiation belts, after James Van Allen who designed Explorer I. NASA asked Oak Ridge National Laboratory to predict how astronauts and other materials would be affected by exposure to both the Earth's Van Allen radiation belts and the Sun's radiation. Biologists at the lab concluded through experiments that proper shielding would protect living organisms and electronic instrumentation. To develop shielding for the Apollo crews, Oak Ridge researchers reopened the Tower Shielding Facility, which had hoisted shielding experiments aloft for the 1950′s nuclear-plane project.
Knowing the Jupiter has a magnetic field that is 20,000 stronger than Earth's, you can see how the material in the radiation belts around it are bound to achieve greater speeds. The Galileo spacecraft measured radio wave activity inside Jupiter's magnetosphere as it orbited the gas giant for eight years. According to the data, low frequency radio waves may be responsible for electron energization in the Jovian high energy particle belts, just like in Earth's Van Allen Belts. The source of the low frequency waves on Earth as still a mystery, but the Jovian waves caused by two main contributors. "On Jupiter, the waves are powered by energy from volcanoes on the moon Io, combined with the planet's rapid rotation. Volcanic gasses are ionized and flung out away from the planet by centrifugal force. This material is replaced by an inward flow of particles that excite the waves that in turn accelerate the electrons.", according to Dr Richard Horne, lead author of research, British Antarctic Survey (BAS).
Scientists are expecting to send probes to the Jovian moons Io and Europa. The electronics on those missions will have to be protected to a degree never seen by a space craft since the moons are within Jupiter's radiation belts. At the bottom you will find a few NASA links about spacesuits and shielding strategies.
Here's an article about Galileo's final study of Jupiter, and information about Jupiter's version of the Van Allen Belts.
Here's an article from ScienceDaily about the Cassini flyby of Jupiter that detected so much radiation, and an old article that says that radiation might help the chances of life on Europa.
We've also recorded an entire show entirely about Jupiter for Astronomy Cast. Listen to it here, Episode 56: Jupiter, and Episode 57: Jupiter's Moons.
Sources:
http://www.nasa.gov/audience/foreducators/postsecondary/features/F_Space_Radiation_Project.html
http://imagine.gsfc.nasa.gov/docs/ask_astro/answers/970630a.html
http://www.nasa.gov/vision/space/travelinginspace/radiation_shielding.html